Experts in Allusion blinds and shutters
Any style for any room

Discover our collection of Allusion blinds, a stylish shading solution for your home brought to you by Absolute Blinds. These modern and unique blinds from Louvolite combine sheer and opaque textured fabric, adding a touch of charm to any room. Our Allusion blinds offer a blend of elegance and flexible light control. Available in a range of neutral colours, they effortlessly blend with different interior styles, providing a sophisticated touch to your space.
Get in Touch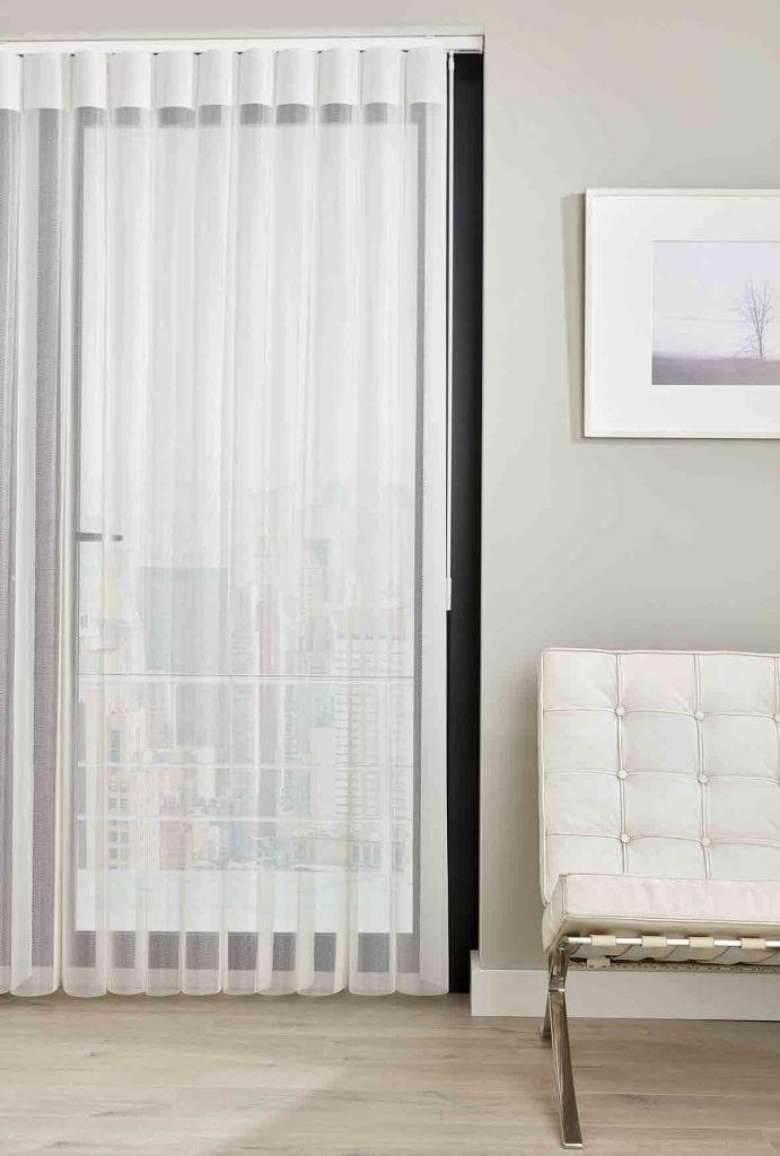 Why choose Allusion Blinds?
Sophisticated and Elegant
Experience the gentle filtration of sunlight while preserving your scenic view. Our made-to-measure Allusion blinds are available in sizes of up to almost 5 meters wide, making them an ideal solution for large windows, bi-fold doors, and patio entrances. As a versatile alternative to curtains and vertical blinds, their innovative design even allows you to walk through the closed blind while keeping your doors open, seamlessly blending indoor and outdoor living.
What are the benefits of allusion blinds?
Offer a unique shading solution for the home, providing subtle light diffusion with a view of privacy and security when closed
Allusion blinds filter daylight during the day yet still offer a view of the outside
Made up of a combination of sheer and opaque textured fabric
Look particularly stunning in larger windows, bi-folding or patio doors
Access outside space by walking through the blind with the doors open
Allusion Blinds Inspiration
Get in touch

Take the first step towards transforming your windows with style and functionality with a free consultation, our experienced team looks forward to hearing from you.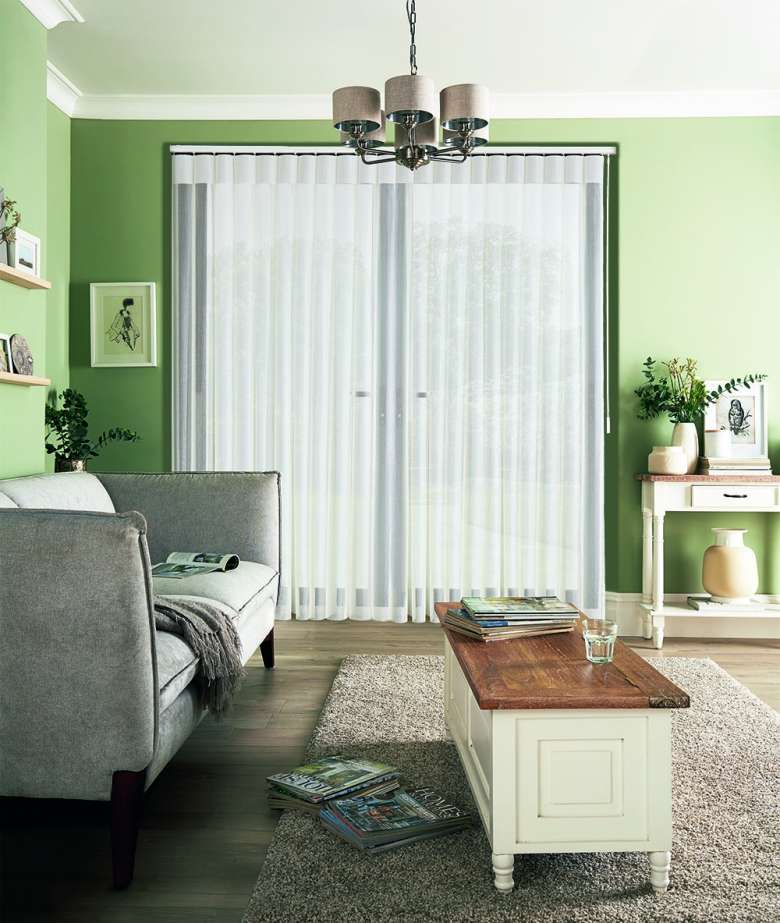 Frequently Asked Questions about Allusion Blinds
If you have any further questions about our products, please get in touch and we will be happy to help!
What are Allusion Blinds?

Allusion blinds are a unique and versatile window covering option that combines the elegance of sheer curtains with the practicality of blinds. These blinds feature wide fabric vanes suspended between two layers of sheer fabric, allowing you to control both light and privacy with ease. The fabric vanes can be tilted open to let in natural light while maintaining a level of privacy or closed completely for enhanced privacy and light blockage.

Allusion blinds create a soft and diffused ambience in any room, as the sheer fabric allows filtered light to enter while gently reducing glare. They are ideal for living rooms, dining areas, and bedrooms, adding a touch of elegance and sophistication to your windows. With their unique design, allusion blinds offer a contemporary and stylish alternative to traditional blinds or curtains.

How do Allusion Blinds work?

The innovative construction of allusion blinds allows for effortless operation and precise light control. You can easily adjust the vanes to achieve your desired level of light and privacy, creating a comfortable and inviting atmosphere in your home. Allusion blinds offer various control options to suit individual preferences.

The standard control option for allusion blinds is wand control. With this mechanism, there are no cords involved, making it safe for households with children and pets.

Another control option is the traditional chain and cord. This option includes multiple cords that allow you to adjust the levels of light and privacy. However, it's important to note that this control method may not be safe, especially if there are unsupervised children or pets in the household. The hanging cords can pose strangulation risks.

The final control option for allusion blinds is motorised control. This is the safest choice not only for allusion blinds but for all types of blinds. Motorised allusion blinds come with advanced operating mechanisms, allowing you to easily rotate the window coverings using a remote control, wall switch, or smartphone app. This makes operating Allusion blinds much more convenient and safer. If you have small children or pets living in your home, we recommend electric blind control options for your Allusion blinds.

What materials are Allusion Blinds made from?

Allusion blinds at Absolute Blinds are available in a variety of colours, patterns, and fabric options, allowing you to customise them to complement your interior décor. They use a combination of sheer and opaque textured fabric to allow you control over the light entering your home while exuding luxurious beauty. We only construct our products from high-quality, affordable materials, passing on their benefits to our clients. We will work with you to find the perfect material and design style for your blinds.

Can Allusion Blinds be custom-made?

Yes. We custom measure, construct and install Allusion blinds of many sizes and shapes to fit your window spaces perfectly.

Are Allusion Blinds suitable for large windows?

Yes. Allusion blinds are designed with large windows in mind. They allow you to cover and adjust the light in large openings like bi-fold doors, patio doors, and oversized windows. One of the best features of Allusion blinds is that they allow you to easily walk through them to access the outdoors without adjusting the blinds themselves. You can also use them for room dividers.

Can Allusion Blinds be motorised?

Yes. Like most of our products, we can install your Allusion blinds to be motorised. This safe and elegant operation control eliminates all cords, making it the perfect combination of safe and stylish for children and pets.

Are they energy-efficient?

Allusion blinds are specifically crafted to offer exceptional insulation, resulting in potential savings on your energy costs. With their distinctive design, these blinds grant you precise control over the amount of light and heat that permeate your living space, enabling efficient temperature regulation throughout the day. As a result, you can enjoy a comfortably cool atmosphere during the summer months and maintain warmth during the winter, minimising your reliance on heating and cooling systems.

What are the benefits of Allusion Blinds over traditional blinds?

Allusion blinds offer many benefits over traditional blinds:

Enhanced Light Control
Ability to Walk Through Them
Superior Insulation
Modern, Timeless Aesthetics
Child and Pet Safe
Versatile Design Options

Can Allusion Blinds provide privacy?

Yes. Allusion blinds are constructed from two different types of fabric: a translucent material and an opaque material. With the push of a button or a quick adjustment, you can alter the positioning of your Allusion blinds, providing complete privacy.

Are they child-safe?

Yes. Allusion blinds are naturally child and pet-safe due to their construction without cables, cords, or any possibility of entanglement.

Can Allusion Blinds be used in humid environments?

While you can install Allusion blinds anywhere in your home, they work best covering large windows and sliding doors. We may recommend an alternate style of blinds for bathrooms and more humid rooms in your home.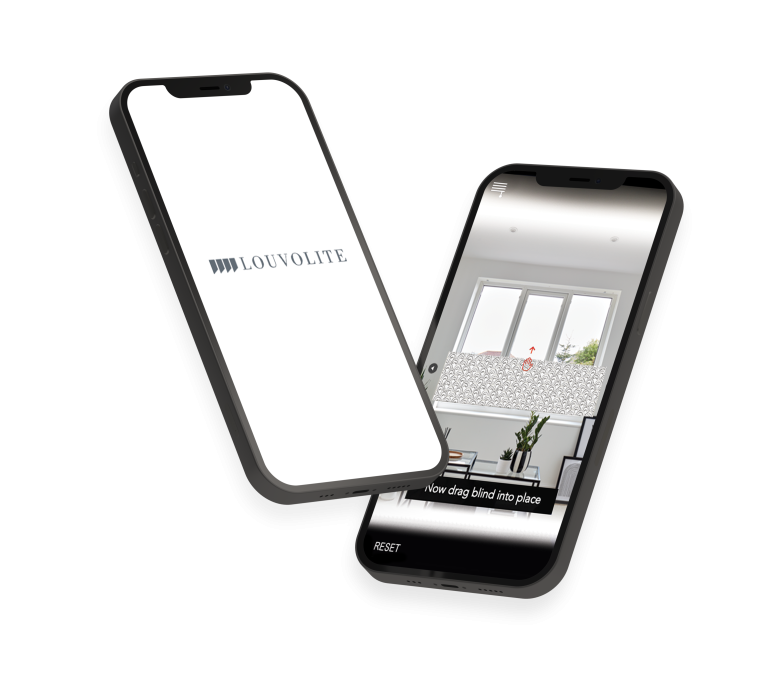 Visualise your window blinds
With Augmented Reality by Louvolite
Louvolite now has an app that allows you to visualise our amazing range of fabrics in your home, making it easier to see and choose the right blinds for you!

Find out more