Made-to-Measure Pleated Blinds
Transform your Conservatory

Conservatories are a great place to relax and unwind while still enjoying the beauty of the outdoors. However, the space often gets overlooked in the peak summer and winter months as the temperatures can make the room uncomfortable and unpleasant. Bespoke blinds can help transform your conservatory into a space you can enjoy all year long. Conservatory blinds can be created to fit any sized window and possess insulation qualities to boost comfort in your space.
Get in Touch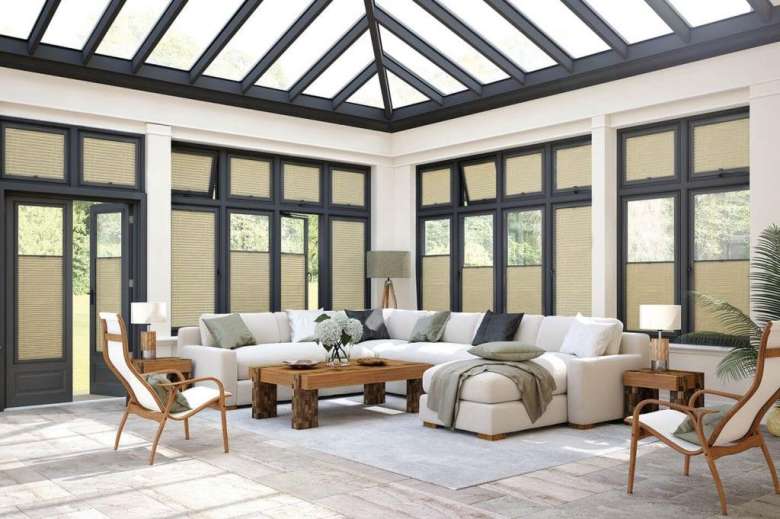 Why choose conservatory blinds?
The classic pleated look and bespoke fit make conservatory blinds a great choice for nearly any space. Besides your conservatory or orangery, this type of blind is great for kitchens, bedrooms, office spaces, and more!
Often described as 'pleated blinds'
The pleated textile blind is the modern way to keep the sun and heat at bay. It is suitable for all kinds of windows in either the home or the office but has been designed more specifically for the modern conservatory.
There are two styles that are generally regarded as the mainstay of the product: the free-hanging style for vertical windows and the ever-popular skylight version for roof windows.
The pleated fabric is folded into pleats and is manufactured from high quality fabric.
Pleated Conservatory Blinds Inspiration
Get in touch

Take the first step towards transforming your windows with style and functionality with a free consultation, our experienced team looks forward to hearing from you.