Experts in blinds and shutters
Any style for any room

When it comes to window shutters, we understand that one size does not fit all. That's why we pride ourselves on offering a diverse range of options at our Welwyn Garden City showroom. Each shutter is carefully crafted to match the unique ambiance of your home, ensuring seamless integration that will leave you in awe.
Get in touch
View our types of Shutters
Transform your windows today
Carousel, use the Previous and Next buttons to navigate.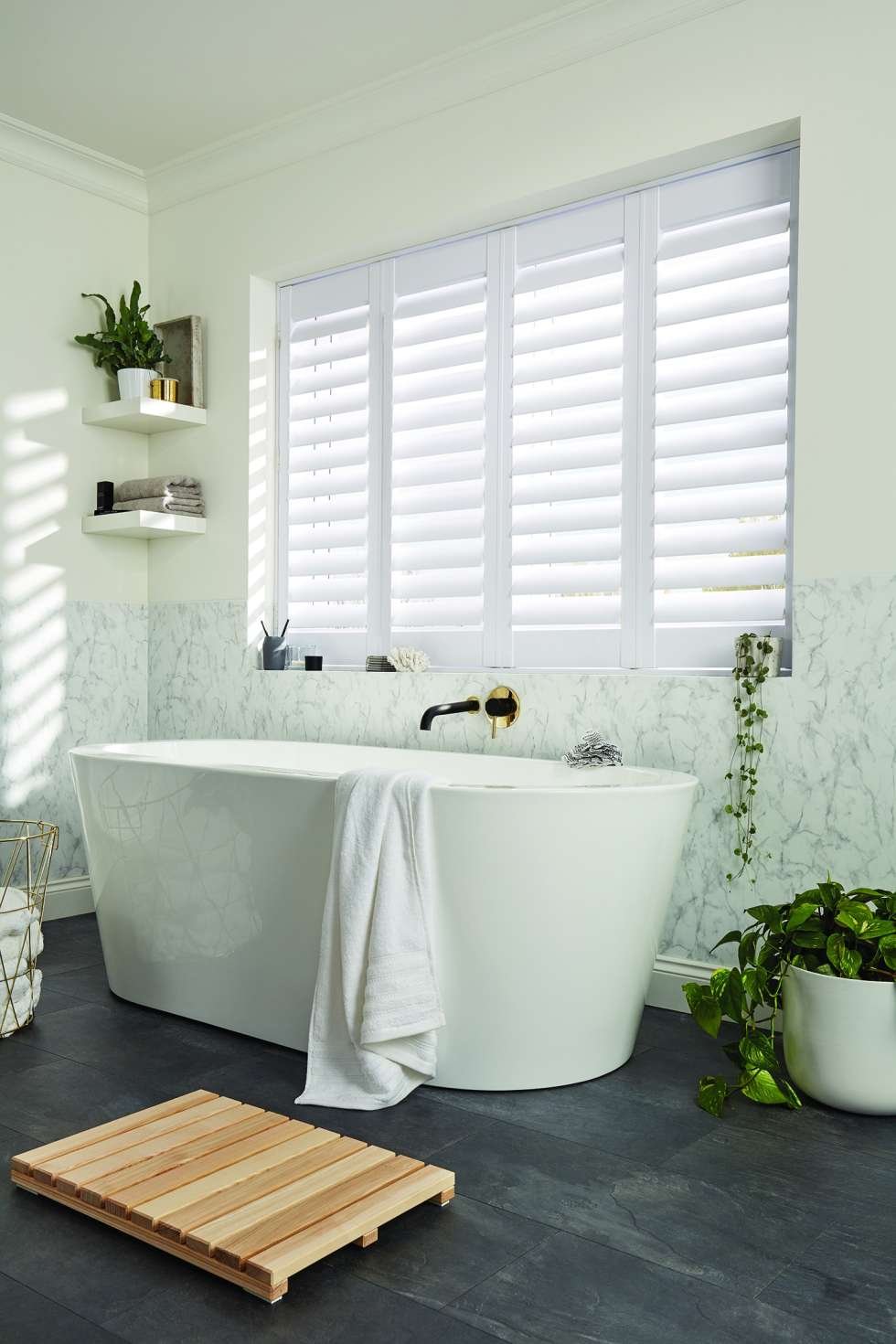 Shutters for Residential and Commercial Properties
Our window shutters are designed to provide you with the utmost privacy, shielding your space from prying eyes and creating a haven where you can truly unwind. Whether you're hosting a family gathering or simply enjoying a peaceful evening alone, our shutters offer you the control to let in just the right amount of light and maintain the privacy you deserve.
Absolute Blinds isn't just about enhancing residential properties. We take great pride in serving both commercial and domestic properties across Welwyn Garden City, St. Albans, and Hertford. Our team of experts is dedicated to transforming any space into a work of art, ensuring that your shutters not only meet your needs but exceed your expectations.
So why choose shutters?
Beautiful faux or real wood interior shutters
Available in variety of styles and finishes
Control the light and privacy by adjusting the louvres
Can have front tilt rods or hidden rods for cleaner finish
Different size louvres and colours available
Plantation, full height, café, tier on tier, tracked, solid, and shaped styles can be produced
Made-to-measure shutters are measured and fitted by our fully trained fitters
Book a free consultation
Our Customers Say
Carousel of customer testimonials. Use the Previous and Next buttons to navigate.
Absolute Blinds fitted us a Skylight Blind for our orangery. We were very pleased with it, the tradesmen were excellent. We were kept informed during the process from measuring up to placing the order. With updates on fitting date. I would recommend them very professional and pleasant to deal with.
Customer in Cambridgeshire
Showroom staff knowledgeable and patient. Fitting team are very quick, tidy and professional but still took time to make sure our electric blinds were properly set up and programmed.
Yvonne, Hertfordshire
Installed blinds throughout our new house around 6 years ago. Very professional job. Had to have a blind motor replaced recently . Speedy, friendly professional job by the same guy who did the original installation (Nigel), I would definitely recommend this company
Customer in Hertfordshire
Read more reviews on Which? Trusted Traders
Get in touch

Take the first step towards transforming your windows with style and functionality with a free consultation, our experienced team looks forward to hearing from you.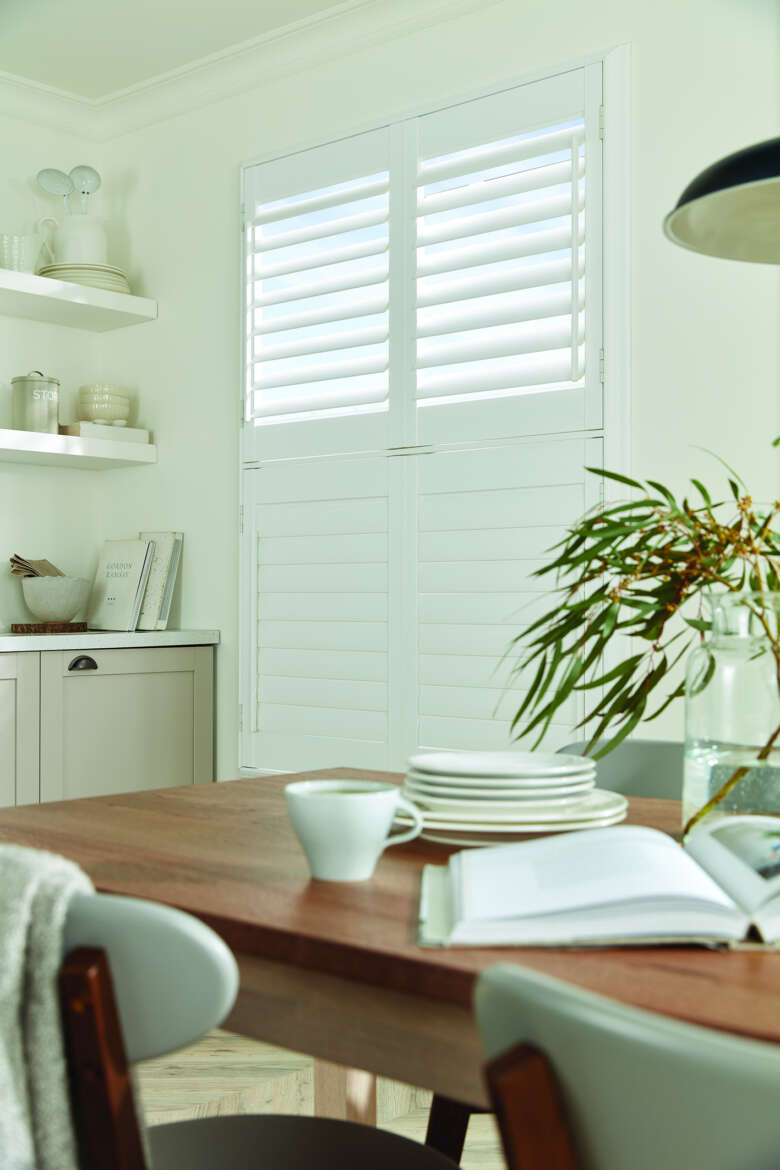 Frequently Asked Questions about Shutters
What are shutters?

Shutters are a popular and durable window treatment option known for their versatility and style. They consist of a frame with vertical stiles and horizontal rails, offering various design possibilities within the frame, such as solid panels, louvres (horizontal or vertical slats), glass, or fabric. Shutters can be installed both on the interior and exterior of buildings, making them adaptable to cover windows, doors, and other structures, depending on the building's style and structure.

With their sophisticated yet welcoming aesthetic, shutters add a touch of traditional elegance to modern homes. They give a unique personality to windows, enhancing the overall décor. Our shutters are crafted with high-quality materials, including ethically sourced natural wood and faux wood, which are particularly suitable for moisture-rich areas like kitchens and bathrooms.

What are the different types of shutters?

At Absolute Blinds, we custom-create and install a wide variety of shutter types. Our catalogue includes:

What materials are used to make shutters?

We create custom shutters out of two different materials – natural wood and faux wood. They each have their own benefits:

Natural Wood

Natural wood shutters bring warmth, elegance, and timeless beauty to any space, enhancing the overall aesthetics of your home. With their durability and longevity, natural wood shutters are a worthwhile investment, capable of withstanding daily use and maintaining their structural integrity. The customisation options available with wood shutters allow you to achieve a personalised look that complements your interior design. Additionally, these shutters provide natural insulation, regulating temperatures and potentially reducing energy costs. Their classic appeal ensures they remain stylish and versatile, seamlessly adapting to different design trends. Choosing natural wood shutters adds a touch of luxury and functional value to your windows.

Luxaflex® Faux Wood Shutters

Opting for faux wood shutters for your home provides several advantages. Faux wood shutters offer the timeless aesthetic of real wood while being more resistant to moisture and humidity. They are durable and less prone to warping, cracking, or fading, making them suitable for high-moisture areas like bathrooms and kitchens. Faux wood shutters are also easier to maintain, requiring minimal upkeep compared to natural wood. Additionally, they are often more budget-friendly, allowing you to achieve the desired look without compromising on quality. Choosing faux wood shutters provides a practical and stylish window treatment solution for your home.

Luxaflex® Faux Wood Shutters are a great choice for bathrooms due to their moisture and humidity resistance. These shutters have a sleek, durable design that minimises the risk of warping, cracking, fading, chipping, peeling, or discolouration. They are not only suitable for bathrooms but are also perfect for kitchens and any other room in your home.

What are the benefits of shutters compared to other window treatments?

Choosing shutters over other window treatments offers a range of benefits that make them a popular choice among homeowners. Firstly, shutters go beyond being a mere window treatment and become a striking feature in your home. Their timeless and stylish appearance enhances the aesthetics both inside and outside your home, boosting its curb appeal and creating a wow factor. Shutters are easy to maintain, requiring minimal upkeep compared to other options. A simple wipe-down with a wet cloth keeps them clean and dust-free, and their durability prevents them from retaining unpleasant odours.

One of the standout advantages of shutters is their superior temperature control capabilities. They provide better insulation compared to blinds, allowing you to optimise heat retention in colder weather and make the most of natural solar heat in warmer months. Shutters also offer enhanced control over light and privacy. You can adjust the slats' tilt to regulate the light entering your room while maintaining privacy. The thickness of the wooden louvres ensures a balance between natural light and privacy. Finally, shutters can add value to your home. Their attractive appearance, durability, and overall aesthetic appeal increase your property's value.

Can shutters be customised to fit any window size?

Yes. We custom measure, cut, fabricate, and install shutters to fit any window size. We are also capable of constructing and installing shutters for uniquely shaped windows.

How do I clean my shutters?

Our shutters are easy to maintain and clean. Follow these steps to clean your shutters and extend their lifespan:

Dusting

Use a dry, soft cloth or a feather duster to gently remove dust from the surface of the shutters. Start from the top and work your way down, ensuring thorough coverage.

Spot Cleaning

For stubborn stains or dirt build up, dampen a cloth with mild soap and water. Gently wipe the affected areas, being careful not to oversaturate the shutters. Immediately dry the surface with a clean cloth.

Avoid Harsh Chemicals

Refrain from using harsh cleaning solutions, abrasive materials, or bleach, as these can damage the finish of your shutters.

Cleaning Louvers

To clean the individual louvres, close them and wipe each one with a cloth or duster. Alternatively, you can use a soft brush attachment on a vacuum cleaner for a more efficient cleaning process.

Regular Maintenance

Establish a routine for cleaning your shutters to prevent excessive dirt build up. Aim to clean them at least once a month or as needed based on your home's environment.

Can shutters help with energy efficiency?

One of the biggest reasons to invest in high-quality shutters is their energy efficiency. They offer exceptional insulation properties that contribute to reducing both heat loss during the winter and heat gain during the summer. By creating a barrier between the interior and the window, shutters effectively trap cold air, minimising heat transfer. Windows account for a significant portion of your home's heating energy loss, making the selection of window treatments crucial for energy savings. Shutters, when closed, can decrease heat loss through a window by over 50%. For even greater insulation benefits, shutters can be paired with curtains, enhancing your home's energy efficiency.

How long do shutters typically last?

Shutters can last around 20 years with proper care and maintenance.

Can shutters be motorised?

Yes. We offer motorised options on our shutters.

Can shutters be used in humid environments such as bathrooms?

Yes, however only when faux wood option is selected. Real wood shutters are not suitable for humid environments. Our plantation shutters are an excellent choice for bathrooms due to their ability to withstand high humidity and moisture, making them a suitable window covering option. These shutters are specifically designed to be waterproof, ensuring their durability and longevity in humid environments. Additionally, their easy-to-clean nature adds to their practicality, making maintenance a breeze.