SkyTrak Blinds for Lantern Windows
Experts in lantern window blinds
Any style for any room

We'd be happy to schedule a consultation to help you find the perfect made-to-measure blinds, shutters, curtains, awnings, and more for your home or office. Please contact us today with any enquiries for our team concerning SkyTrak blinds for lantern windows and more!
Get in touch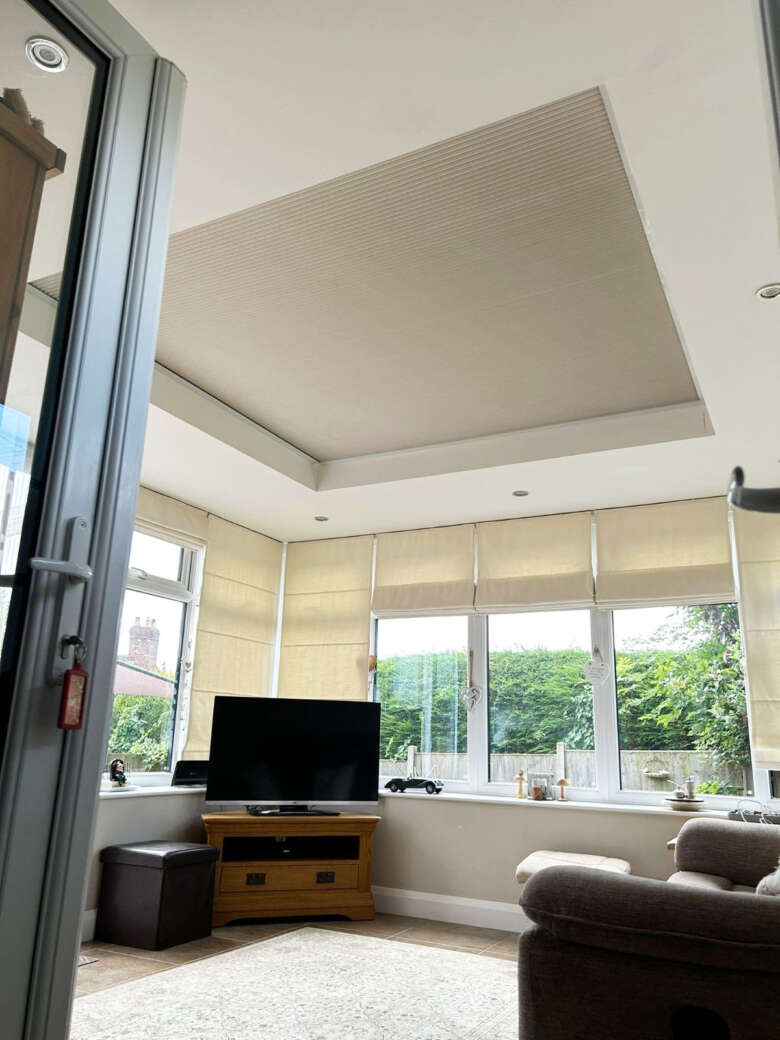 Reduce Glare & Protect Furnishings With Lantern Roof Blinds
Many buildings with flat roofs incorporate roof lanterns into their designs to give the roofs more height and allow more natural lighting. While more streaming light seems pleasant, it can cause unwanted glare and heat inside your home or office. The sun's ultraviolet rays can also cause furnishings to fade. Pleated blinds offer the perfect solution for lantern windows. They can be customised to fit any window to help you make better use of your space year-round. Absolute Blinds proudly carries many popular lantern roof blind options, including SkyTrak pleated blinds, in our Welwyn Garden City showroom. Visit us today to explore our budget-friendly and bespoke options for lantern windows and more!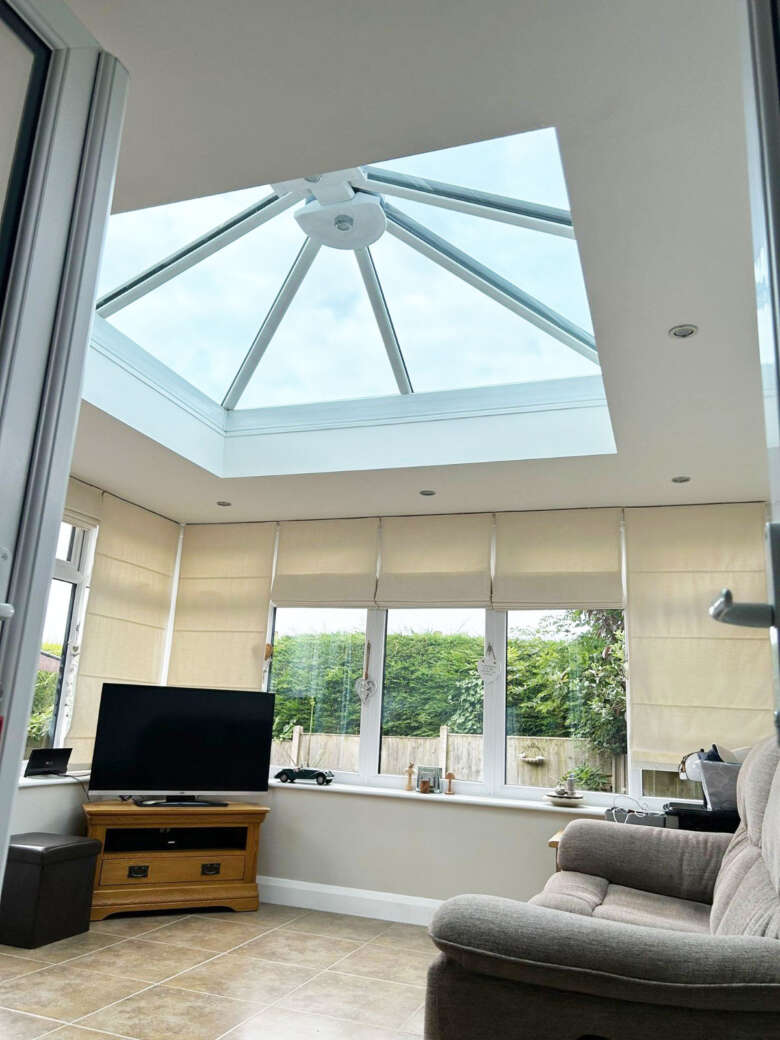 Why Are Blinds for Lantern Windows Necessary?
Blinds for lantern windows are necessary to control indoor lighting and temperatures. Their fabric is folded into pleats to help keep the sun's UV rays and heat at bay. Absolute Blinds offers SkyTrak and other made-to-measure pleated blinds in our showroom to help you enjoy cosy indoor environments any time of year. Because lantern windows are usually difficult for most people to reach, many lantern roof blinds are motorised for your convenience. The SkyTrak overhead lantern window blind system takes blinds for lantern windows to the next level. We recommend them to customers looking for cost-effective, energy-efficient lantern roof blinds for their home or business.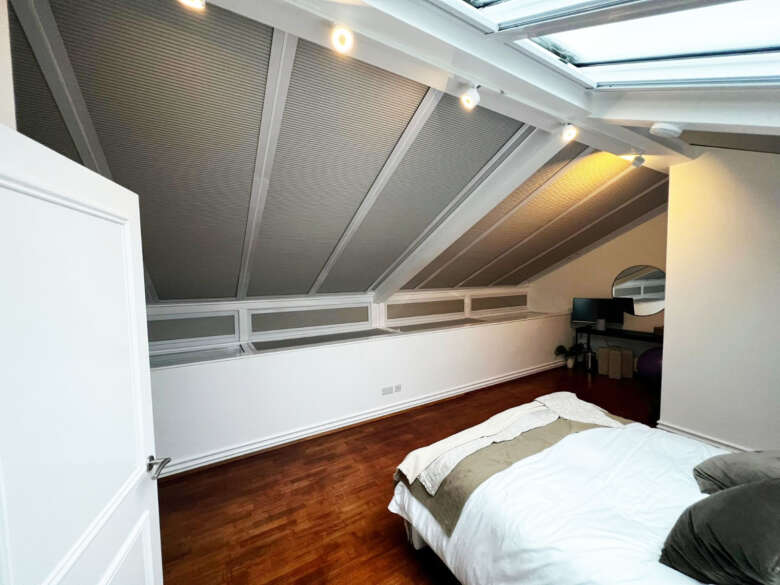 Why Are SkyTrak Pleated Blinds Preferred in Homes & Offices?
SkyTrak pleated blinds are suitable for any lantern windows and other rectangular ceiling voids with a depth of 60mm or more. When these blinds are open, there aren't any visible guide wires or cables because they utilise an innovative belt drive system to pull them effectively across the space. Other reasons to consider SkyTrak blinds for your home or office's lantern windows include:
Easy to install with side fixing or shelf mounting
Battery-powered or mains-powered options available
Lightweight option without added tension
Allow the ultimate dimout effect in any room
Their fabric is cellular (double-walled) and typically opaque. Popular colours include white, dark grey, and dark coffee because they complement virtually any residential or commercial space. Our team can fit SkyTrak blinds with any cellular translucent fabric. About 98% of the lantern roof blinds we sell at Absolute Blinds are made of white blackout fabric to match most ceilings. We also stock a cream-coloured version, both of which are foil-lined for maximum insulation and heat retention/reflection. We offer blackout and translucent fabrics from Eclipse and Louvolite in our showroom. View recent work to get inspired about the possibilities for your space.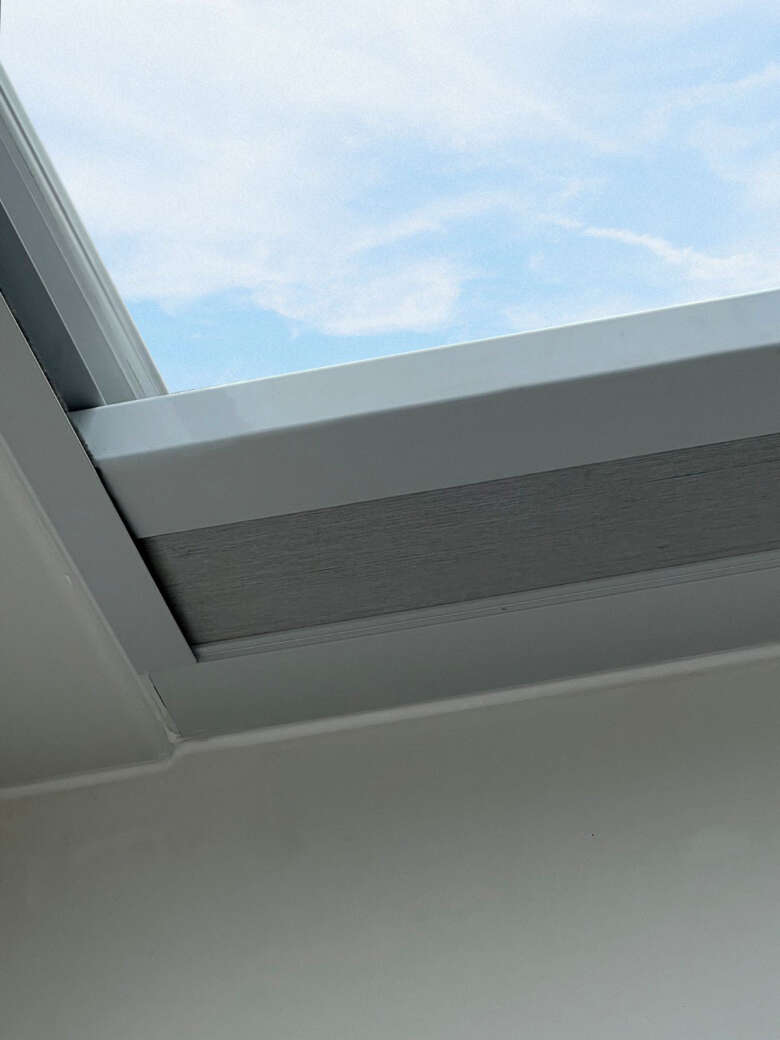 What Power & Control Options Come With SkyTrak Pleated Blinds?
SkyTrak blinds for lantern windows come with various power and control options, including:
24v Motor With 240v AC Transformer – Motors are built into the motor channel, with exit positions for the power cable specified in any one of 12 positions.
Controllers – Controller options include:
Single-Channel Wall Switch – White (this is a radio controller, so it doesn't require cables)
9-Channel Handset – Black
99-Channel Handset – Black
6-Channel Handset – White
Wi-Fi-to-Radio Transfer Device – Compatible with Amazon Alexa, Google Assistant, and Tuya Smart
Rechargeable Battery Motor – All rechargeable batteries come with a 240v AC charger. The battery and receiver are built into the tension spring channel, as they cannot be located at the same end as the motor.
Charging Port – The charging port can be hidden under the channel's cover and pulled out as needed. It can also be left permanently sitting on top of the channel. The charging port's exit point also serves as the connector port for the solar panel and can only exit from the tension spring channel end of the blind (ideally on its top side).
Solar Panel – A solar panel can be connected to the battery for permanent trickle charging. The length of the attached cable is 2.5mts. However, if needed, you can extend it up to 2mts without a voltage drop. You'll need to cut the cable and extend it yourself. The solar panel has an extension bracket available where extra projection is needed. However, the solar panel will sit atop the blinds without any need for brackets in most cases.
SkyTrak Blinds Inspiration
Get in touch

The Absolute Blinds team would love to help you find the perfect window treatments for your home or office. Our Welwyn Garden City showroom is located less than a mile from John Lewis and is open Monday through Saturday at your convenience. Whether you'd like to learn more about Perfect Fit Shutters Lite from Louvolite or explore other budget-friendly shutters in our showroom, we've got you covered. Contact us and schedule an appointment for a consultation with our friendly experts today!