Experts in Vertical Blinds
Any style for any room

We offer a wide range of made-to-measure blinds, including vertical blinds, to cater to the unique needs of our domestic and commercial clients in St Albans, Hertford, and Welwyn Garden City.
When you choose Absolute Blinds, you can expect quick turnaround times and expert advice on selecting the perfect made-to-measure blinds that complement your interior. Book a free home consultation with our team today and let us guide you in finding the ideal window solutions for your space.
Get in touch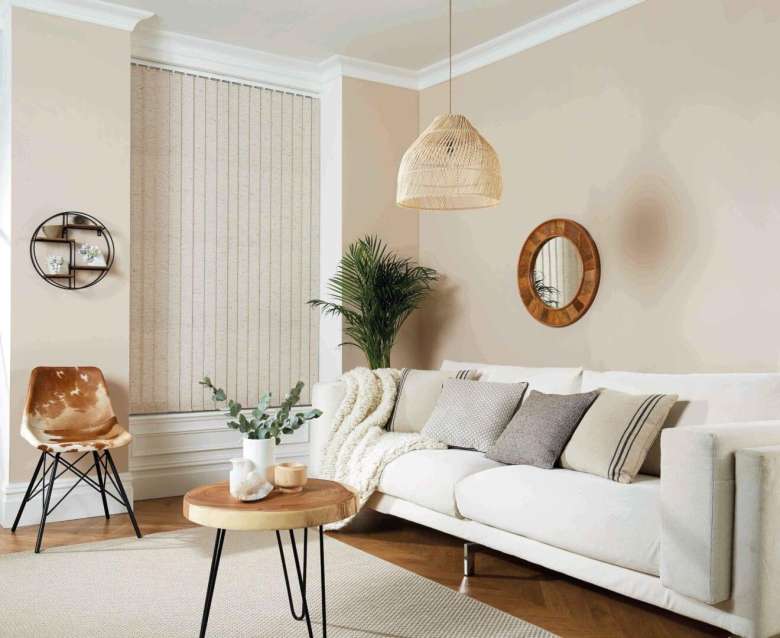 Why choose vertical blinds?
Vertical blinds offer numerous benefits that you can take advantage of:
Light Control and Privacy – With long and vertically angled slats, vertical blinds can control a large amount of light for each room – not depending on the position of the sun. On top of light control, these blinds can also provide a full privacy effect by moving the slats to completely closed – not allowing neighbours or people passing by to see into your property.
Customisable – In addition to the traditional window shape and design options, vertical blinds are perfect to fit uniquely shaped windows, wide patio doors, and more. While these blinds cover "difficult" areas – our selection also comes with different headrail and control options. We also feature a wide range of fabric colours and textures from Louvre fabric, to best match your interior design scheme, all while adding a unique colour choice.
Helps With Insulation – Designed with protective and angled slats, vertical blinds can provide added insulation for your windows. As a permeable layer between the outside cool air and your property, this barrier is effective at preventing heat transfer through your windows – keeping your home and property comfortable year-round.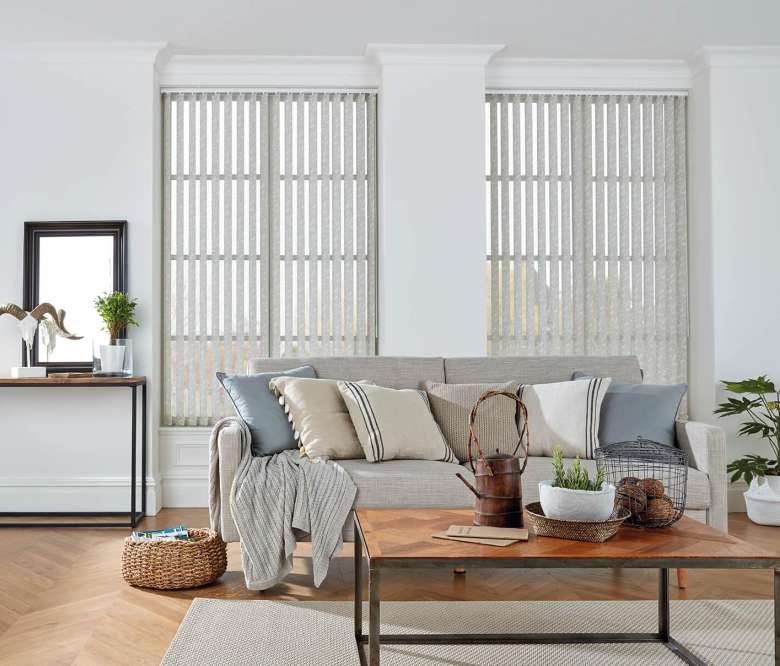 What are the benefits of vertical blinds?
There are several reasons why vertical blinds are perfect for your home. Some of the highlights include:
Keep Your Privacy
With long, vertically angled slats, vertical blinds can control the amount of light that enters the room and provide full privacy by closing the slats.
Control Your Room's Light
Vertical blinds can control a large amount of light for each room, regardless of the position of the sun, which is great for bedrooms, living rooms, and home offices.
Easy to Clean & Maintain
Vertical blinds are simple to clean and can be easily wiped down without taking them down, making them a great choice for busy households.
Design Versatility
Available in varying heights, vertical blinds provide large surface coverage and protection from UV rays. They can also make small windows look larger and tall windows look more sophisticated.
Cost-Effective Solutions
Vertical blinds are a budget-friendly window treatment option, and if a single panel gets damaged, it can be easily replaced without having to replace the entire set.
Easy to Use
When used to cover sliding patio doors, the blinds can be partially opened to allow access to the door.
Contact us
Louvelite Vertical Blinds
Enhance your property with unique style, elegance, and versatility by opting for made-to-measure vertical blinds. We offer a diverse range of materials, colours, and fabric options to create a customised design that perfectly suits your home, apartment, or commercial space.
Vertical Blind Inspiration
Get in touch

Take the first step towards transforming your windows with style and functionality with a free consultation. Our experienced team looks forward to hearing from you.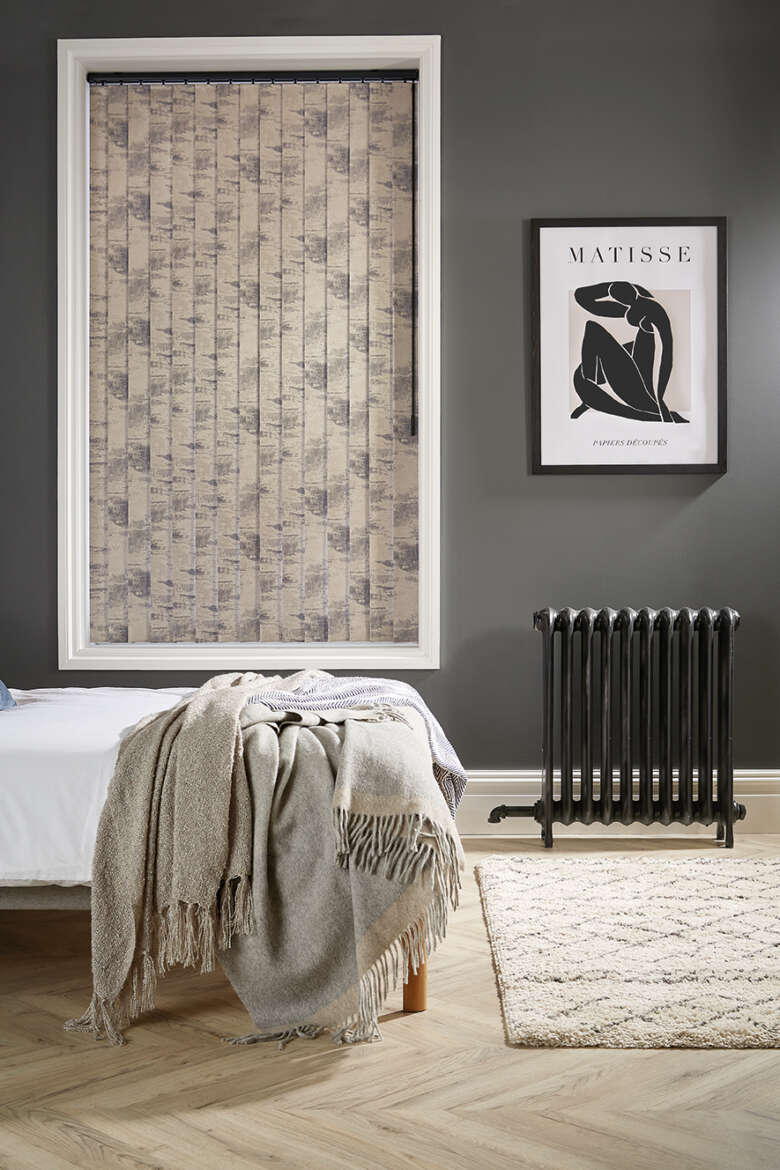 Frequently Asked Questions about Vertical Blinds
What are vertical blinds?

Vertical blinds are window treatments made up of individual vertical slats attached to a track and can be adjusted to control the amount of light entering a room and provide privacy. The slats can be made of various materials such as vinyl, fabric, aluminium, or wood and come in a wide range of colours and textures to match your décor.

Can I use Vertical blinds in my extra-wide window?

Of course! If you have an extra-wide window in your home, vertical blinds are one of the best and most versatile options. They are especially suited for wider windows and doors, including bay and bow windows and sloping windows. With their adaptability and wide range of available styles, materials, and colours, vertical blinds offer a practical and stylish solution to your window treatment needs.

Which rooms are Vertical blinds best for?

Vertical blinds are an excellent addition to any room in your home, as they come in various styles to complement any space. Additionally, we offer specialised fabrics designed for specific environments. For example, we have rigid PVC louvres that can be easily wiped clean and are moisture-resistant, making them ideal for use in bathrooms and wet rooms. Our range also includes blackout fabrics, perfect for those needing extra light and temperature control in their bedrooms.

How do I clean vertical blinds?

Cleaning vertical blinds is not as difficult as it may seem. Since the louvres hang downwards, they collect less dust as there is less surface area for them to settle on. Most vertical blinds are made of flexible polyester or PVC, which is easy to clean with a damp cloth. However, if you want to clean them thoroughly and focus on each individual louvre, it may be simpler to unclip and remove the blinds from the rail. This will allow you to clean them more thoroughly and efficiently.

Are Verticals good for privacy?

Vertical blinds are an excellent choice for homeowners who value privacy in their homes. With long, vertically angled slats, vertical blinds offer exceptional control over the amount of light entering a room, regardless of the sun's position. This feature makes them ideal for bedrooms, bathrooms, or any other room where privacy is a top priority. When the slats are fully closed, they can create a full privacy effect, blocking any views into the room from the outside. This is particularly important for ground-floor rooms or those facing busy streets or neighbours' properties. Vertical blinds can also be easily adjusted to provide partial privacy by angling the slats to control the amount of light and visibility entering the room.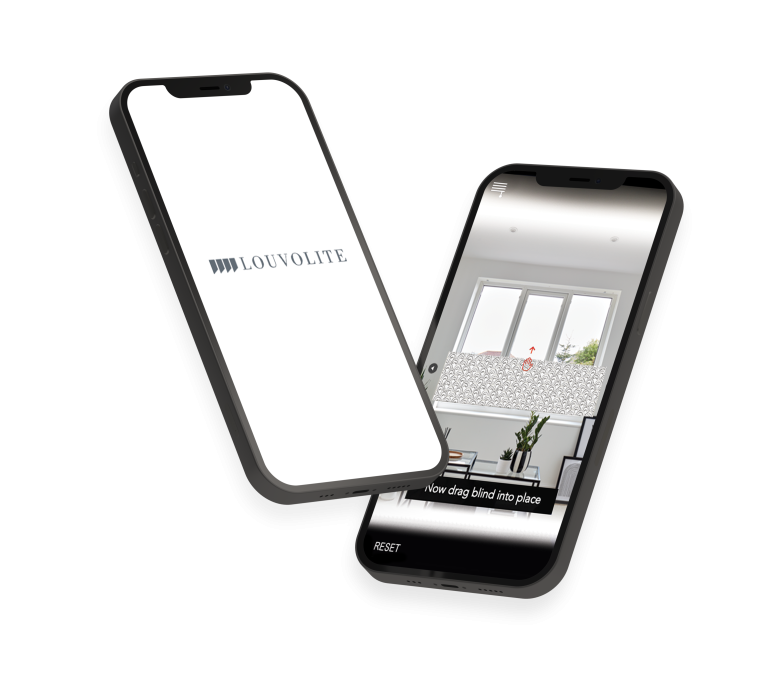 Visualise your window blinds
With Augmented Reality by Louvolite
Louvolite now has an app that allows you to visualise our amazing range of fabrics in your home, making it easier to see and choose the right blinds for you!

Find out more