Made-to-Measure Roman Blinds
Any style for any room

Roman blinds are versatile blinds that can be used in any room of the house, from the living room to the bedroom, making them a popular choice for homeowners looking for a stylish and practical window covering solution.
Get in Touch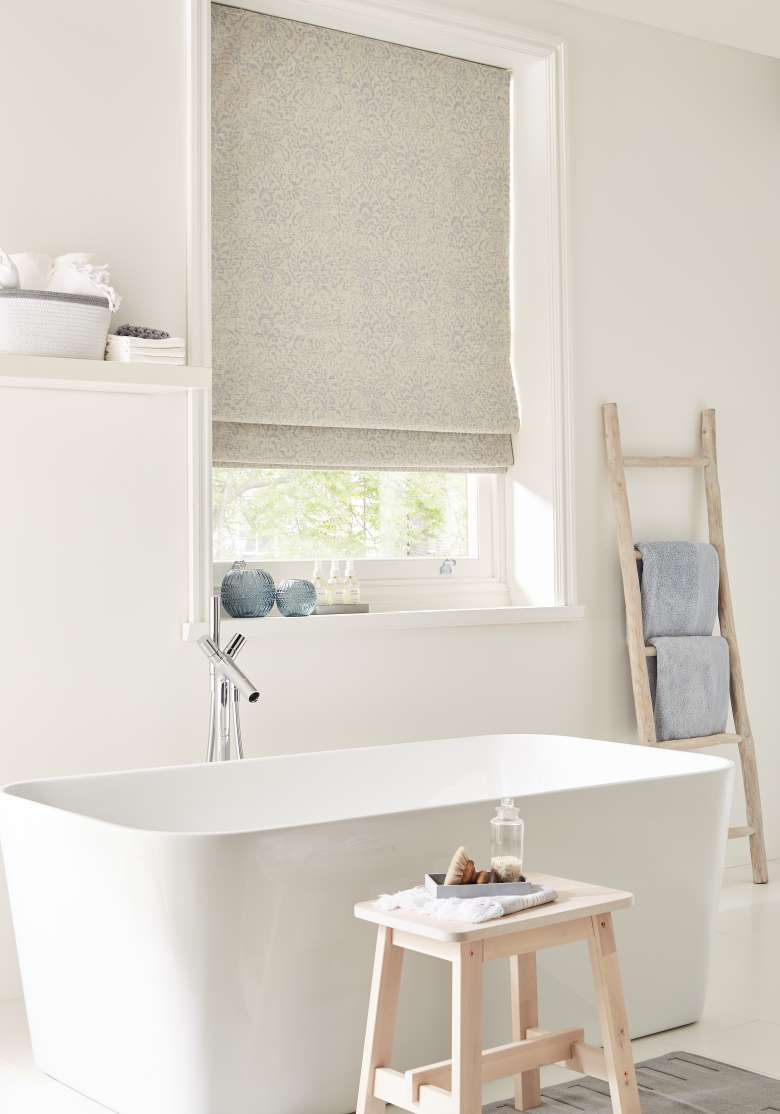 Why choose Roman blinds?
Timeless and Customisable
Roman shades are a hybrid between a curtain and a blind, making them the perfect solution to all of your window covering needs. Available in an array of colours, designs and fabrics, roman shades are becoming increasingly popular and can be found in any room of the home.
With their timeless appearance and flexibility, roman shades won't fall out of style easily and can easily be paired with any personal design style! Some roman shades can even be constructed with energy efficiency in mind, helping you save money on your heating and cooling bills. Extremely easy to operate and easy on the eye, it's hard not to fall in love with roman shades!
Roman shades are a great choice for home or flat window treatments. Some other highlights include:
Contemporary alternative to curtains
Extensive range of fabrics available
Soft, layered pleat effect enables blinds to be moved up and down with ease via chain
Created with standard and blackout linings.
Customise with tassels and other finishes.
Manual or motorised operation
Can be linked to Alexa for voice operation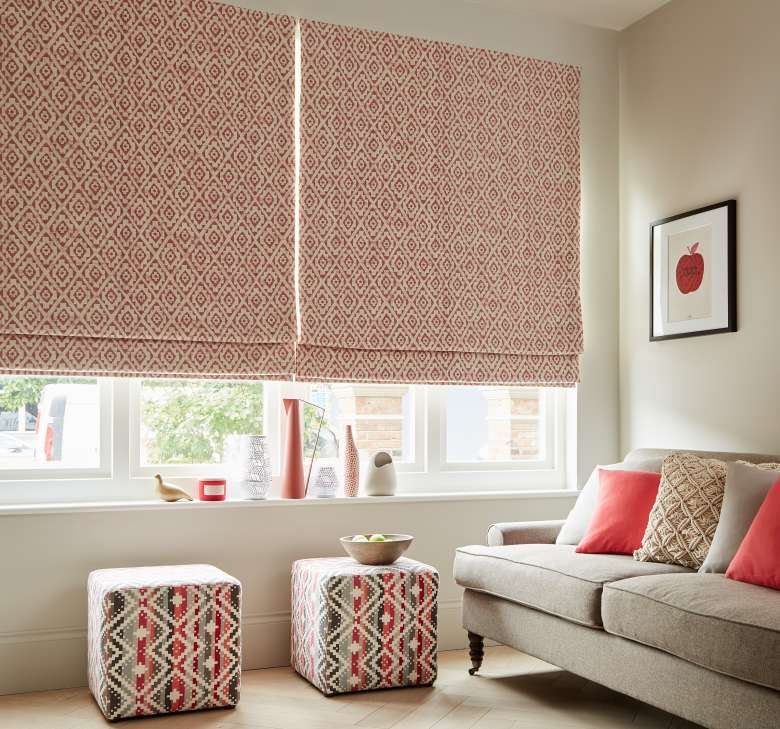 The advantages of Roman Blinds
Roman blinds come with a long list of advantages and benefits which is why they are so popular with our clients. Some of the biggest advantages of Roman blinds include:
Enhanced Privacy
Roman blinds offer great privacy as they are made from one piece of fabric without any gaps or spaces.
Energy Efficiency
Properly lined Roman blinds can help regulate the temperature in your home, keeping it cool in the summer and warm in the winter.
Affordability
As a cheaper option than curtains, Roman blinds use about 25% less fabric and are available in a wide range of materials and designs.
Soft, Timeless Appearance
Unlike hard material options such as wood blinds, Roman blinds provide a soft and characterful look to windows.

Find out more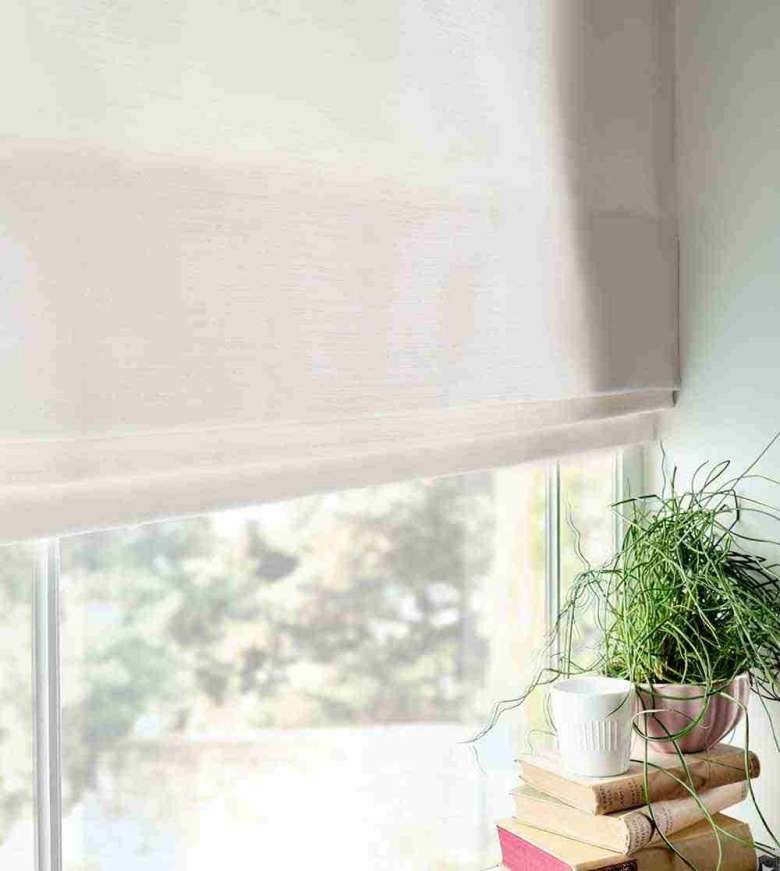 Ideal for Smaller Windows
Roman blinds are perfect for smaller windows that can be overwhelmed by curtains and take up no space on either side of the window.
Clean & Tidy
Roman blinds provide a streamlined and uniform appearance, giving the window a clean and tidy look without creating bulk around the window.
Easy to Operate
Roman blinds can be operated effortlessly using cords or can be motorised for added convenience.
Safe for Pets & Children
To ensure safety, it is recommended to choose Roman blinds without cords or to install cord cleats or cord tensioners to keep cords out of reach of children and pets.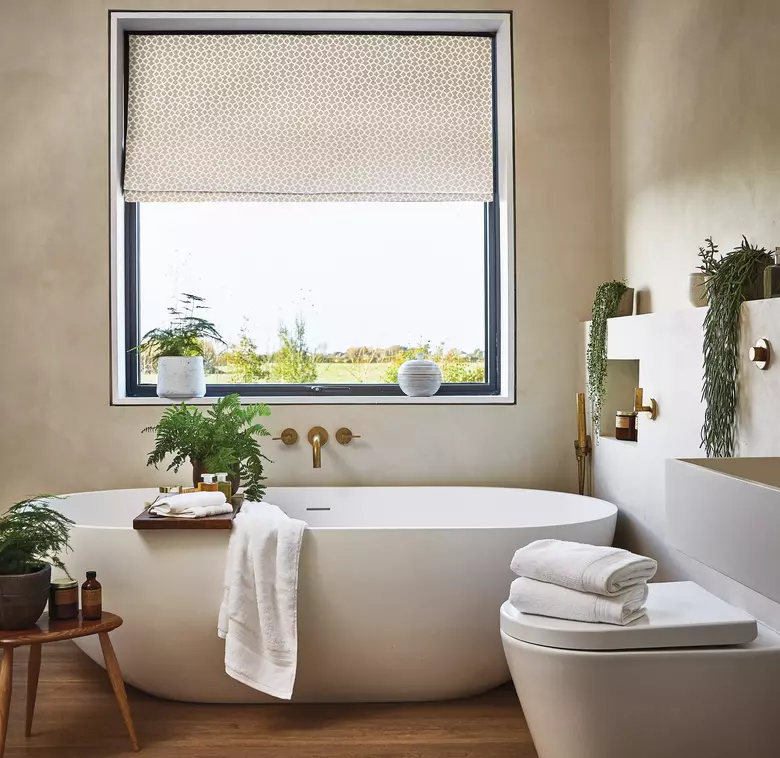 Upgrade to electric Roman blinds
with Alexa voice automation
Enhancing the convenience, efficiency, and functionality of any room is possible by getting electric blinds. Our motorised Roman blinds offer a combination of luxury and affordability.
Find out more
Get in touch

Take the first step towards transforming your windows with style and functionality with a free consultation, our experienced team looks forward to hearing from you.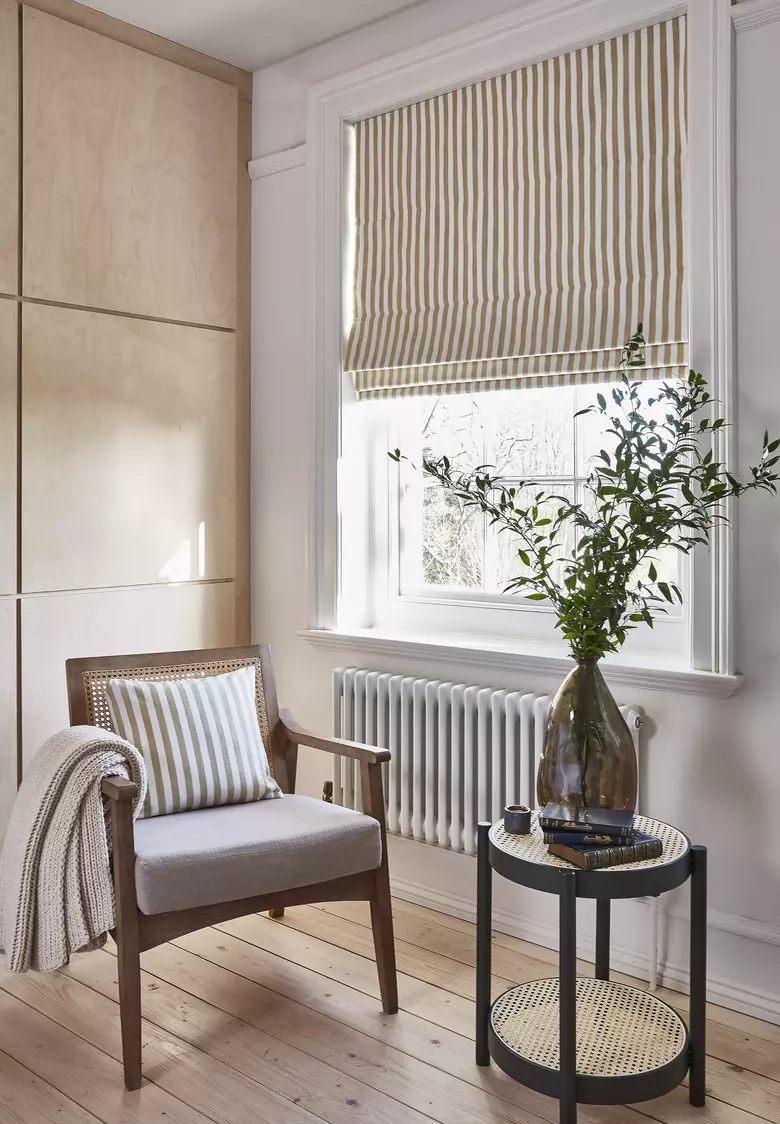 Frequently Asked Questions about Roman Blinds
What are Roman blinds?

Roman blinds, also known as Roman shades, are a type of window covering that consists of a flat piece of fabric that hangs flat against the window when the blinds are down and folds neatly into pleats when the blinds are raised. This unique design makes them a popular choice for those who want the elegance of a curtain with the functionality of a blind. Roman blinds can be made from various materials, including natural fabrics like cotton and linen and synthetic materials like polyester and PVC. They come in a range of colours, designs, and patterns to suit any interior décor. Roman blinds are also versatile and can be used in any room of the house, from the living room to the bedroom, making them a popular choice for homeowners looking for a stylish and practical window covering solution.

How do you clean Roman blinds?

There are several easy and affordable ways to keep your Roman blinds looking great for years to come.

Vacuuming

Use a soft brush attachment on your vacuum cleaner to remove dust and debris from the surface of the blinds. This method is ideal for regular cleaning throughout the year. With routine maintenance, you can keep your blinds looking great without the need to get more involved in your process. However, if they are more soiled, other methods can be used.


Dry Cleaning

For delicate Roman blinds, it's best to have them professionally dry-cleaned. This method ensures the blinds are thoroughly cleaned without damaging the material. It's important to note that different materials require different cleaning methods. We will always provide in-depth instructions for recommended cleaning methods for your new Roman blinds.

Can you get blackout Roman blinds?

Yes. We offer Roman blinds in various colours and materials with blackout lining included. The blackout lining allows you to keep the room as dark and quiet as possible. It also helps keep your room's temperature consistent throughout the more extreme seasons, blocking out hot sun rays in the summer and insulating your windows from the cold in the winter.

Can my Roman blind be motorised?

Yes. You can easily operate your Roman blinds by using a remote control, making it a hassle-free experience that adds convenience to your daily life. Motorised Roman blinds are especially useful for windows that are either out of reach or hard to access, providing an effortless solution to controlling the light and privacy in your home.

Are Roman blinds lined?

Our Roman blinds are lined by default, but we also offer additional lining options to suit your needs. You can choose to have a blackout lining to block out unwanted light or select our interlining option for a more luxurious appearance. The interlining adds an extra layer of insulation, which is achieved by bonding a polyester cotton face with polyester wadding on the inside of the blind. This not only enhances the look of the blind but also provides an extra layer of insulation, making your home more energy efficient. Compared to a standard lining, the wadding increases the insulation properties of the blind by up to 50%.

What is the difference between Roman blinds and roller blinds?

Roman blinds and roller blinds differ in terms of their operations, functional design, and aesthetic appeal. As their name suggests, roller blinds roll up. With fabric options like wipe-clean and moisture-proof, they are frequently thought of as more useful window decorations, making them perfect for kitchens, bathrooms, and kid's rooms. They are, nevertheless, a chic and excellently priced option for all living areas. Roman blinds can be folded up and come in a variety of opulent soft fabrics with additional lining options to maximise light control. Both blind versions pull up or draw using chain and pulley mechanisms.