Enhance Your Space with Vision Blinds
A Perfect Blend of Style and Functionality

Enhance your home with the versatile beauty of vision blinds, a stylish and practical choice that provides you with control over light and privacy. These blinds feature two layers of striped fabric, allowing you to adjust the amount of light entering your space and maintain your desired level of privacy.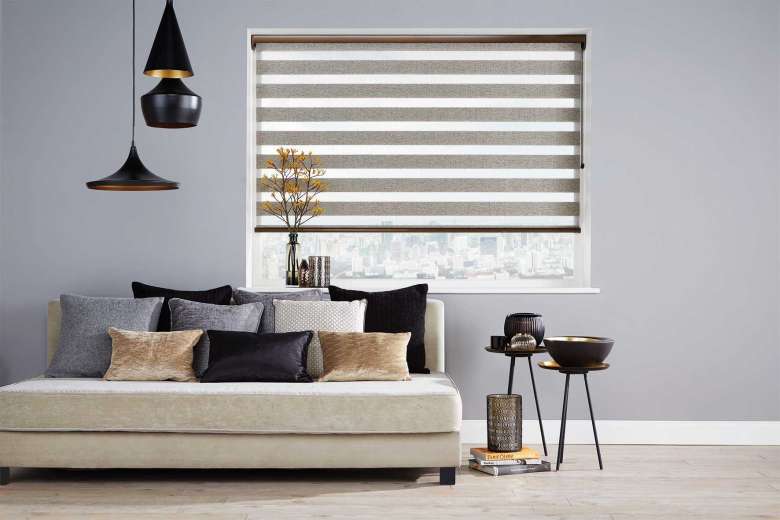 Why choose day and night blinds?
Our hand-crafted Day and Night Blinds are designed to complement any window with their functional and fashionable appeal. Choose from a range of colours, from deep ebony to crisp white, to find the perfect fit for every room in your house.
For added convenience, we now offer motorised options, bringing modern simplicity to your daily routine. Our electric Vision Blinds provide an affordable solution for homeowners seeking a touch of modernity. Discover a blend of contemporary style and practicality with our diverse range of shutter blinds at Absolute Blinds.
Features of Day and Night Blinds:
Control the light and maintain the view
'Day to Night' blinds gently filter and softens daylight whilst offering you the option of privacy level
Contemporary design, stunning fabric options
Beautiful metallic finishes, natural woven wood effects and a contemporary selection of muted tones
Number of cassettes, manual or motorised options available
Vision Blinds Inspiration
Get in touch

Take the first step towards transforming your windows with style and functionality with a free consultation. Our experienced team looks forward to hearing from you.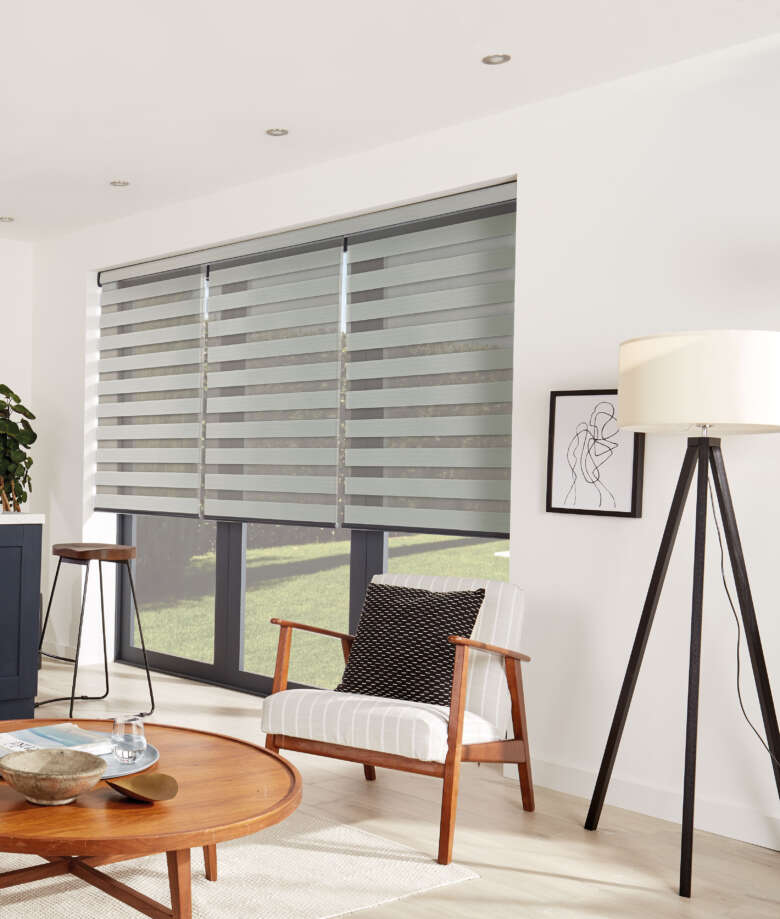 Frequently Asked Questions about Day and Night Blinds
What are vision blinds?

Vision blinds, also known as Day and Night blinds, are window coverings that consist of a single layer of fabric strips featuring both opaque and translucent sections. The fabric is designed to fold back on itself, allowing for easy control of light and privacy. By sliding the rear part of the fabric under the front, you can adjust the amount of light entering the room while maintaining a desired level of privacy. These blinds offer a unique combination of functionality and style, as they allow you to enjoy natural light and outside views while preserving optimal privacy.

Vision blinds offer the convenience of roller blinds with light-filtering properties similar to Venetian blinds. They can be easily operated using a chain, and for added convenience, they can also be motorised. At Absolute Blinds, we use Louvolite's fabric collection in our Vision blinds, offering a range of contemporary designs and stunning fabric options. Our blinds are available in various colours, including neutral tones and vibrant shades, with fabric choices that feature natural wood weave effects, metallic sheen, or versatile plain materials. The wide variety of colour and material options makes them perfect for multiple rooms in your home to match aesthetic designs.

How do day and night blinds work?

Day and night blinds operate on a simple yet effective system. These blinds consist of two layers of fabric that are attached to each other, with one layer being transparent and the other in a solid colour. By aligning the two layers at different points, you can achieve different levels of transparency and control the amount of light entering the room.

This unique design allows you to have direct control over the light levels by adjusting one of the layers. You can choose to have a semi-transparent effect with a voile layer, completely block out the light, or find a comfortable middle ground between the two. The controls for adjusting the blinds are cleverly concealed in the overhead section, maintaining the sleek and stylish appearance that day and night blinds are known for.

The versatility of these blinds is a significant advantage. They offer the perfect balance of privacy and natural light during the day. You have the freedom to enjoy ample light while still having the option to block out unwanted light when desired. With day and night blinds, you have full control over the ambience and atmosphere of your space, making them a practical and stylish choice for any room.

What are the benefits of day and night blinds?

There are many benefits of day and night blinds, including:

Flexible light and privacy control

Day and night blinds offer adjustable levels of transparency, allowing you to control the amount of light entering the room and maintain privacy. The design combines the functionality of Venetian blinds with the operation of roller blinds.

Easy maintenance

Day and night blinds are low-maintenance compared to other blind types. They gather less dust than Venetian blinds and don't require frequent cleaning. The fabric can be easily cleaned using baby wipes or a damp cloth, eliminating the need for complex cleaning methods.

Thermal efficiency

Vision blinds provide thermal qualities that contribute to energy efficiency. The double layer of fabric enhances the insulation of the window covering, helping to keep the room warm during winter months and cool during summer. This can result in potential savings on energy bills.

A stylish addition to any room

Day and night blinds make a stylish statement in any interior. Their unique design stands out and draws attention to the window, adding a touch of modernity and enhancing the overall aesthetic of the room.

Are day and night blinds suitable for all windows?

The versatility of Day and Night blinds makes them a valuable addition to any room in your home. Whether you desire gentle light filtering or complete blackout, these blinds offer the flexibility to achieve both while ensuring absolute privacy. From bedrooms to living rooms, their functionality makes them equally suitable for various spaces in your home.

Can vision blinds be motorised?

Yes. Like many of our blind options, we can add a motorised operating mechanic to your Vision blinds.

Can day and night blinds provide privacy?

Vision blinds provide unparalleled control over light levels, ensuring privacy is maintained throughout the entire day and night. Unlike other blinds, they offer comprehensive control, allowing you to effortlessly adjust the amount of daylight entering the room while preserving a high level of privacy.

On sunny days, these blinds excel in filtering the light to create a desired ambience without completely obstructing the natural daylight. This means you can enjoy a bright and airy atmosphere while ensuring your privacy remains intact. With vision blinds, you have the flexibility to strike the perfect balance between natural light and privacy, enhancing the overall comfort and aesthetics of your space.

How long do day and night blinds last?

Day and Night blinds last the same amount of time as our other blinds – around ten years. They can last even longer with proper care and maintenance.