Venetian Blinds Experts
Any style for any room

Whether you're looking to add simplicity or versatility to any room, Venetian blinds are a timeless and classic design you can't go wrong choosing. Over time, this style of blind has adapted to appear in a wide range of office buildings, contemporary living spaces, and letting properties across the UK
Our team provides a vast range of made-to-measure window solutions to domestic and commercial clients throughout St Albans, Hertford & Welwyn Garden City.

Get in touch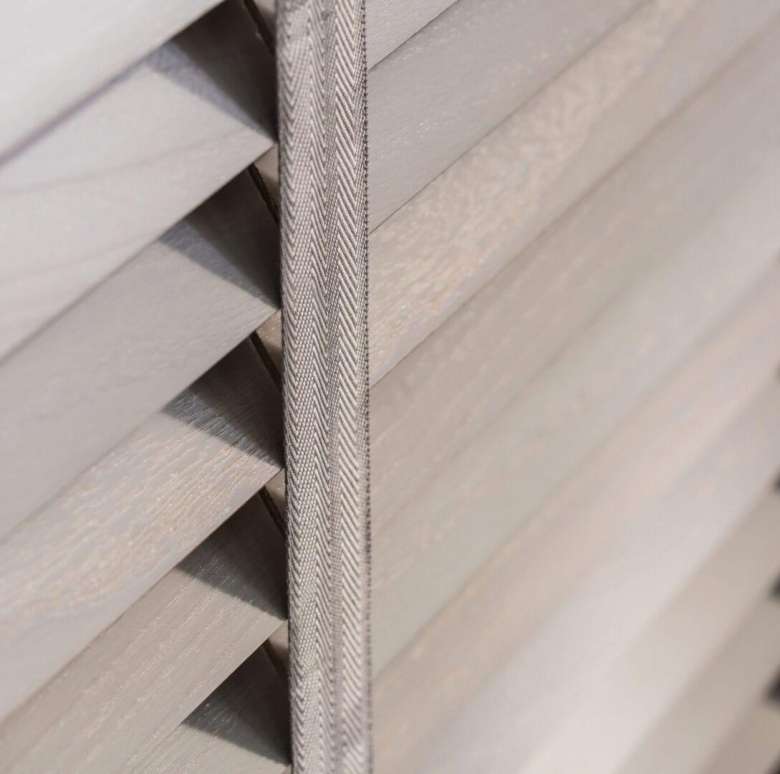 Why choose Venetian blinds?
In addition to offering unique materials, colours and styles, Venetian blinds also have a range of benefits, many residents take advantage of including:
Light Control and Privacy: Due to the use of angled slats, Venetian blinds can control the amount of light coming into each room, no matter the current position of the sun. In addition to light control, these blinds also offer full privacy by moving the slats completely closed, not allowing neighbours to see into your home.
Adds Colour to Your Interior Design: On top of the traditional white colour option, Venetian blinds feature a wide range of colours to match your interior design scheme, all while adding a unique colour that allows your room to stand out.
Helps Keep Rooms Insulated: Designed with protective and angled slats, Venetian blinds can act as a permeable layer between the outside air and your home. This barrier is effective at preventing heat transfer through your windows, keeping you and your family comfortable year-round.
Durable and Easy to Clean: Unlike fabric blinds, Venetian blinds are durable and resistant to both steam and humidity. Due to the material of Venetian blinds, they are also incredibly easy to clean and wipe down, which is perfect for any kitchen or bathroom setting.
Customisable: We can customise the blinds with fabric tapes to soften the finish.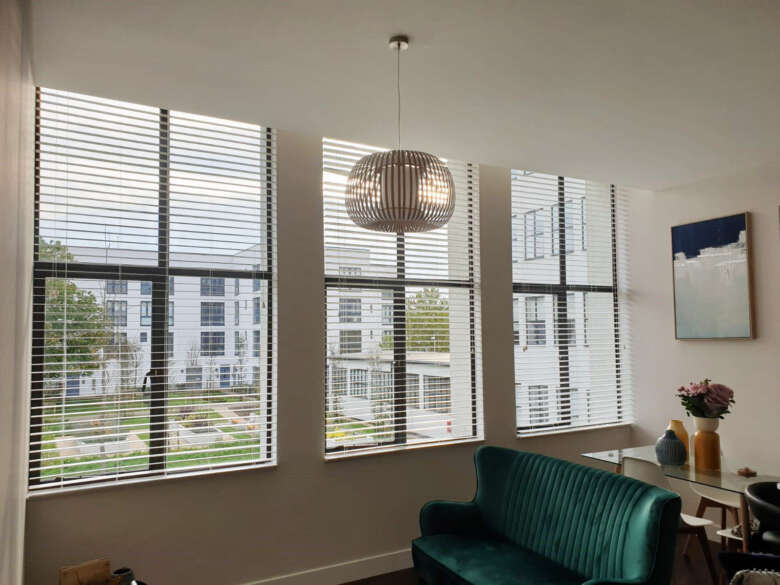 Upgrade to electric Venetian blinds
with Alexa voice automation
Enhancing the ease, effectiveness, and practicality of any area is possible by incorporating a motorised element into your blinds. Our motorised Venetian blinds offer both luxury and affordability, making them an excellent choice.
Find out more
Venetian Blind Inspiration
Get in touch

Take the first step towards transforming your windows with style and functionality with a free consultation. Our experienced team looks forward to hearing from you.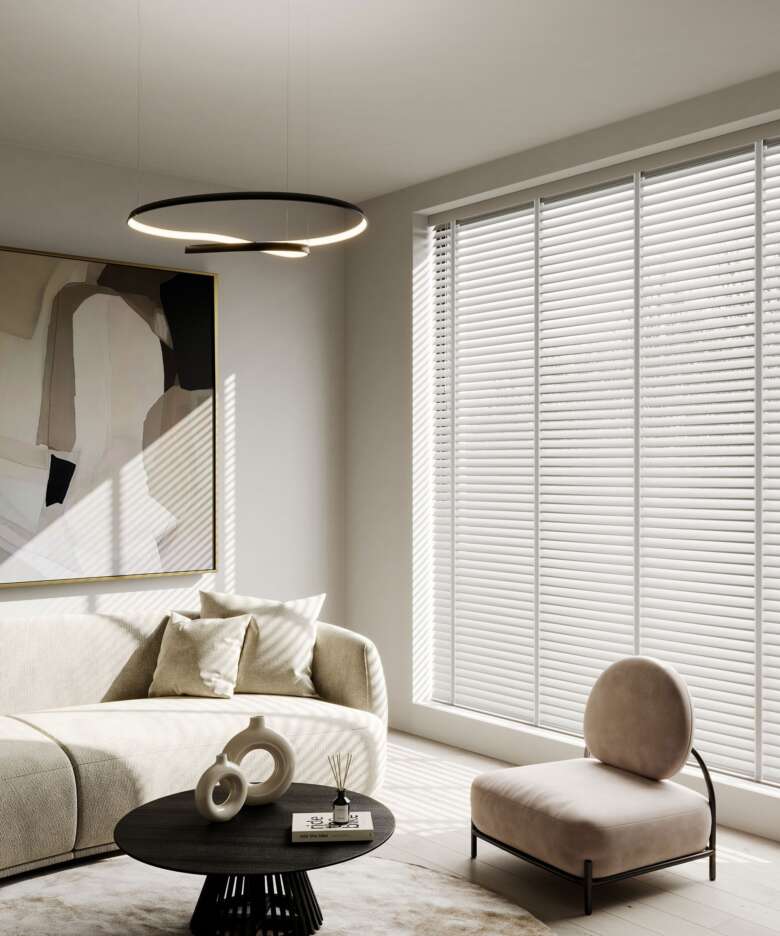 Frequently Asked Questions about Venetian Blinds
What are Venetian blinds?

A Venetian blind is a classic and elegant type of window covering with horizontal slats. These slats can be made from various materials such as wood, MDF with a plastic vinyl layer, or aluminium. The horizontal slats can be adjusted to control the light that enters the room, altering the mood and the amount of privacy. This can be done by using a cord or handle located on the side of the blind.

In addition to controlling light and privacy, Venetian blinds can also be used to add a decorative touch to your home. They are available in a range of colours and finishes, making it easy to coordinate them with your existing décor. Furthermore, they can be customised to fit various types of windows, such as skylight windows, bay windows, and doors. Venetian blinds are popular with many homeowners because of their versatility, timeless design, and ease of use.

Why should you choose them?

Venetian blinds are ideal for those who want to give their room a modern and contemporary look. Unlike curtains, which offer limited control over light and privacy, venetian blinds allow you to adjust the slats to determine how much light enters the room. This feature gives you full control over the level of light in your space. They're also easy to clean and maintain and they come in various colours and materials.

What sort of windows can Venetian Blinds be fitted to?

You're in luck! Venetian blinds are incredibly versatile, easily fitting into most types of windows and doors. They're custom-made to fit into your home. If you have a particularly unique or custom door or window, we can measure your space and custom cut and fit your new Venetian blinds.

Do Venetian blinds keep heat in during the winter and cool during the summer?

Yes! Our Venetian blinds are designed with angled slats to provide a strong protective barrier between the outside air and your home. This barrier helps to prevent heat transfer through your windows, which can keep you and your family comfortable all year round. When the slats are closed, they block out sunlight, which helps to keep a room cooler on a hot summer's day. Similarly, closing the blinds creates a seal in winter, which helps to keep out cold draughts. These benefits also help you save on energy bills throughout every season.

Are Venetian blinds hard to maintain?

Not at all! Venetian blinds differ significantly from fabric blinds in that they are durable, resistant to humidity, and easy to clean and maintain. Cleaning your blinds is as easy as wiping them down with light detergent. This makes Venetian blinds perfect for kitchens and bathrooms where humidity, spills, and more traffic are likely to occur.

How do I clean my Venetian blinds?

To maintain the cleanliness and appearance of your blinds, we suggest cleaning them regularly with a light touch. This can prevent the need for deep cleaning in the future. The easiest way to clean Venetian blinds is to dust the slats with a feather duster or a fluffy cloth. For more thorough cleaning, you can wipe each individual slat with a dry or damp cloth. If you're looking to deep clean your blinds, there are specific Venetian blind cleaners available.

Before starting the cleaning process, inspect the blind for any sticky stains and remove them using a mild detergent or cleaning spray, then dry the blind. Next, close the blinds and clean each slat, starting from the middle and working your way outwards. Repeat this process with the blinds closed on the opposite side.

You can use a vacuum cleaner with an upholstery attachment for an even easier cleaning method. However, it is important to use the attachment to avoid scratching or damaging the blind. Before using the vacuum, ensure that its suction power is not too strong, as it can pull the slats out of shape.