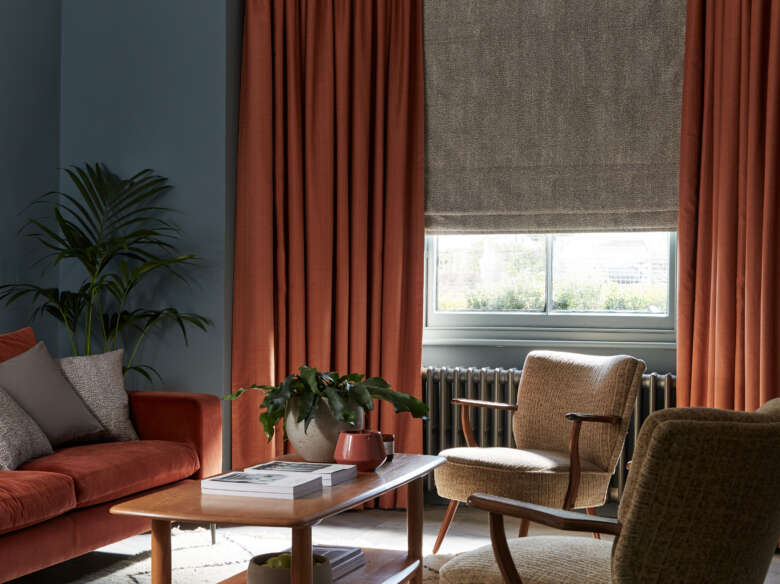 Absolute Journal
Get Inspired: Mediterranean Home Interior Ideas
Do you dream of a warm, inviting and effortlessly stylish home? Look no further! In this guide, you'll learn the top Mediterranean home ideas for transforming your living space into a relaxed, vacation-style atmosphere.
We'll cover everything from colour palettes to furniture to window treatments, helping you create a space that embodies the essence of Spain, Italy and Greece. By the end of this guide, you'll know how to sprinkle a bit of Mediterranean style throughout your UK home.
What is Mediterranean Style?
Originating from the charming and sun-drenched regions of Southern Europe, Mediterranean style is a timeless design approach that has gained popularity in the UK for its emphasis on comfort, simplicity and a connection to nature. Versatile and adaptable, Mediterranean design draws inspiration from the region's unique culture, history and natural beauty, making it a favourite amongst homeowners seeking to incorporate a sophisticated, coastal atmosphere into the home.
Despite its international origins, Mediterranean style remains in vogue across the UK and elsewhere around the world. This enduring popularity can be attributed to the style's focus on creating light, airy spaces that feel romantic, lived-in and grounded in the natural world.
Some defining characteristics of this relaxed look include:
Warm and earthy colour schemes
A focus on architectural features
Simple backdrops
Natural, layered textures and materials
Ample natural light
Bold patterns and accents
Let's delve into each of these elements to help you create a stunning Mediterranean-style home.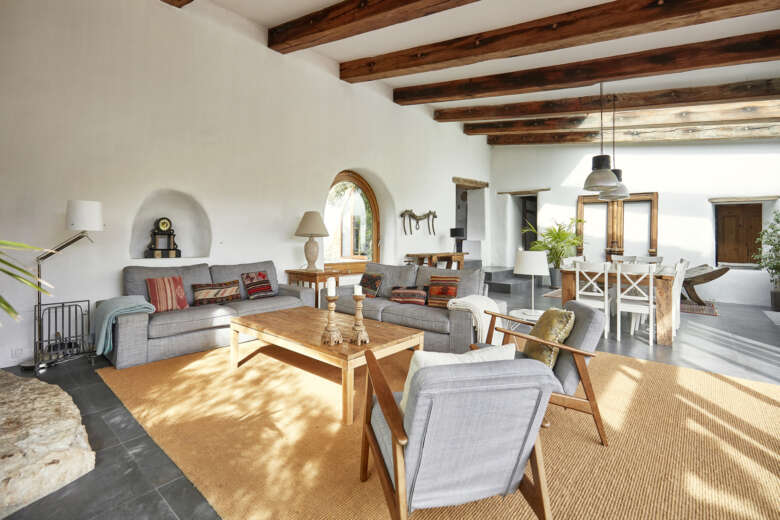 The Colour Palette
A defining aspect of Mediterranean style is its warm and earthy colour palette. Taking cues from the natural landscape, key colours in this palette include earth tones like terracotta, ochre, chestnut, burnt umber, oxblood and moss green. These colours evoke Southern Europe's rich soil, rolling hills and lush vegetation for a sense of warmth and comfort.
Mediterranean interior design also draws from the vibrant hues of the sky and sea, incorporating azure blue, sea foam green, dark purple, lavender, sun yellow and gold into the mix. These colours are reminiscent of the region's sparkling coastlines, sun-drenched skies and golden sunsets, adding a touch of brightness and energy to the overall aesthetic.
Neutral tones also belong in a Mediterranean-inspired home, including the hues of stucco, stone, linen and wood. These colours ground the design, adding depth and texture whilst maintaining an organic feel.
Using a combination of these colours creates a balanced and harmonious space. You'll feel as though you've been transported to the Mediterranean region with every step you take throughout your home!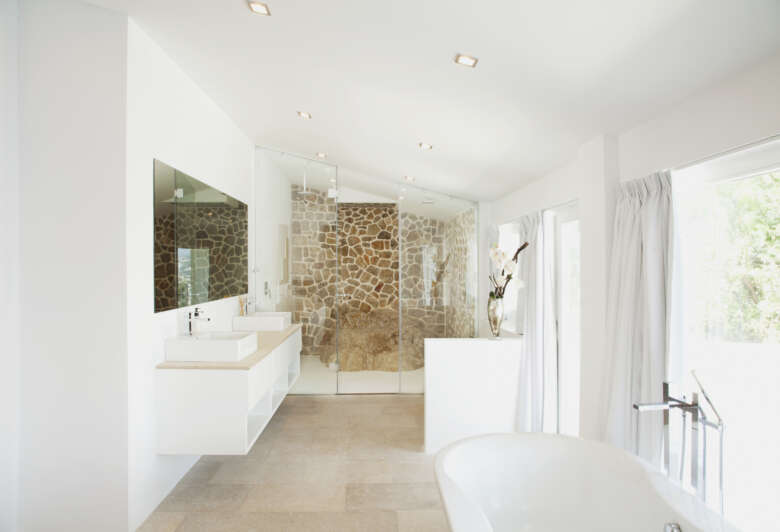 The Architecture
Mediterranean architecture is characterised by large open spaces, high ceilings, wood beams, arched doorways and windows and other distinctive features. To truly embrace this style, highlight and enhance these architectural elements in your home or add them if they don't already exist. This may involve exposing wood ceiling beams, creating archways between rooms or incorporating built-in niches for added character.
If you opt for arched or other special-shaped windows, finalise the look with shaped shutters. These made-to-measure window treatments add the perfect Mediterranean flair whilst providing the light control and privacy you crave.
Exterior architectural features that complement this style include terracotta roof tiles, stucco cladding and ornate ironwork. By adding or emphasising these details on your property, you can create a space that embodies the spirit of Mediterranean design before even walking through the front door.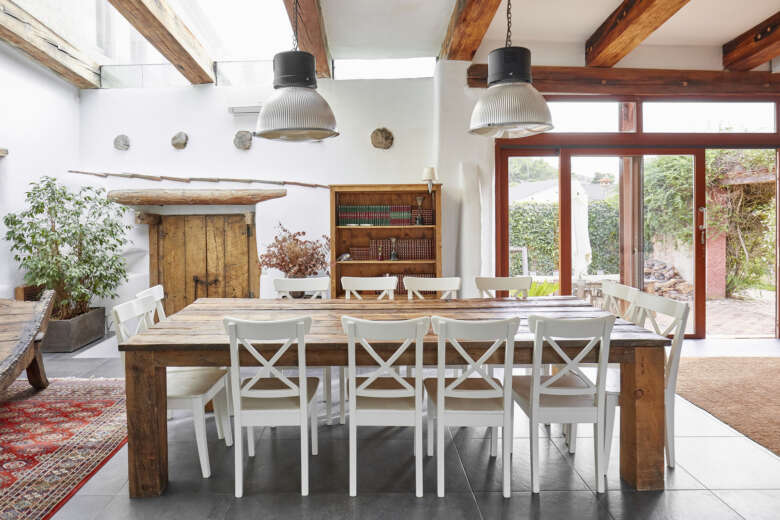 A Minimalist Backdrop
At its core, Mediterranean style is based in minimalism. This involves minimising clutter and focusing on the essentials. To incorporate this principle into your home, opt for clean lines, unfussy décor and functional pieces that serve a purpose. This simple approach creates a sense of calm and serenity whilst allowing this design style's architectural features and natural materials to take centre stage.
When choosing furniture to complement Mediterranean ideals, look for stylish, practical pieces that emphasise comfort and durability. Classic Southern Europe furnishings include low-slung sofas, chunky wooden dining tables and rustic accent pieces such as benches and sideboards. Selecting timeless, well-crafted items creates a space intended to be both functional and visually appealing.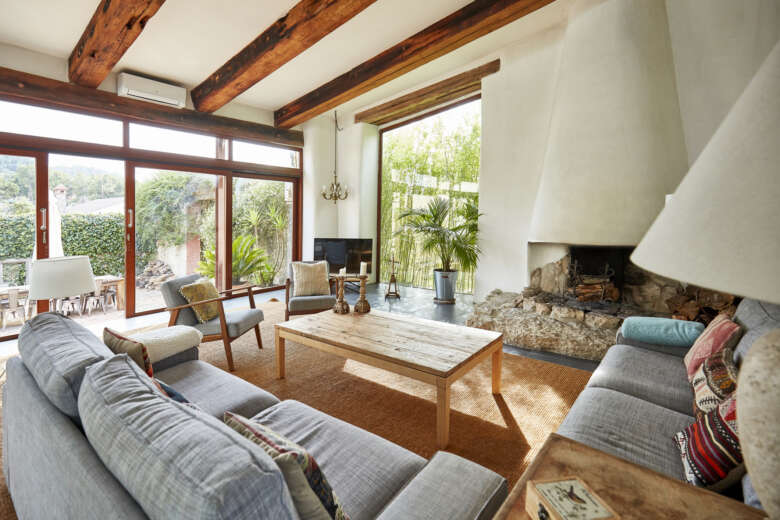 Natural Textures & Materials
Incorporating textures and materials inspired by nature is vital for achieving an authentic Mediterranean look. Examples of natural building materials include terracotta tiles, stone or stucco walls and exposed wood beams. By showcasing these organic elements in your walls, ceilings and floors, you create a backdrop that feels down to earth and in tune with the natural world.
In addition to these foundational materials, enhance your home's Mediterranean feel by incorporating strategic furnishings. Choose furniture made of natural materials like rattan, wood and sisal for a natural and tactile finish. Then, add layered elements like woven baskets and textured throws to create visual interest without cluttering the space.
Tie it all together with deliberate accents. You might incorporate greenery with potted plants and fresh flowers to create a lush, vibrant atmosphere reminiscent of the Mediterranean landscape. Also, look for sculptural accent pieces made of wood, resin or clay designed to look like souvenirs from the Greek, Italian or Spanish coast. Add a further Mediterranean touch to your dining table with genuine-looking dishware featuring rustic yet sophisticated designs in Aegean blues or greens. These final touches create a sense of depth and warmth, making your space feel even more like a vacation setting.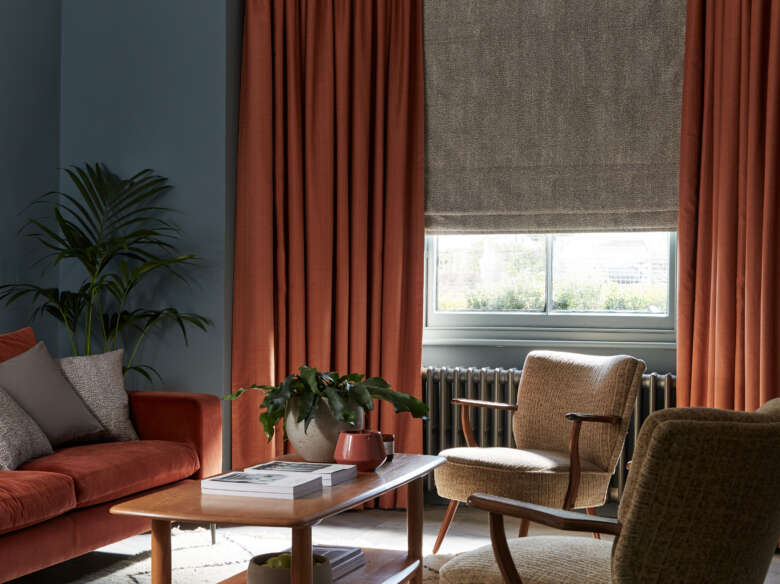 The Lighting
Lighting is a crucial part of any Mediterranean-style interior. Begin by thinking about artificial lighting, which should be warm and inviting. Consider LED lights in an incandescent white to emanate a soft, ambient glow from floor lamps, table lamps and wall sconces. Then, opt for fixtures made from natural materials like wood, ceramic or wrought iron to further enhance the organic feel of the space.
In addition to artificial lighting, make the most of natural light in your Mediterranean-inspired home. Large windows and glass doors flood the space with sunlight, making it feel more spacious and coastal. Even so, you probably want the option to create privacy and control how much natural light enters the room.
Strategic window coverings are the answer. Wooden blinds, plantation shutters and tracked shutters are examples of window treatments that not only let you control privacy and lighting but also add an authentic touch to your Mediterranean-inspired space.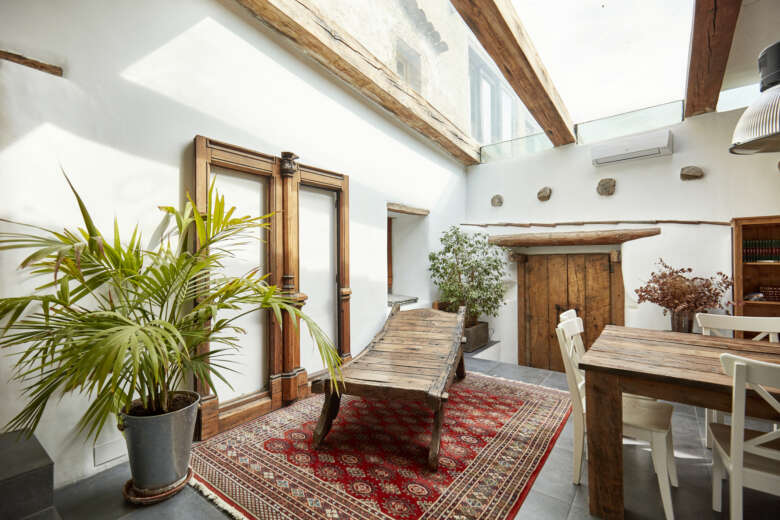 Bold Patterns
Decorative patterns are an essential part of Mediterranean design. To get an authentic coastal feeling across, you must be willing to embrace bright mosaic tiles, encaustic tiles and Moroccan-style zellige tiles, all of which feature prominently. Intricate tile designs are most often incorporated in kitchens, bathrooms and outdoor spaces, serving as a nod to Southern Europe's rich artistic heritage.
Another way to incorporate bold patterns is with rich wallpaper inspired by the region's flora and fauna. If you like the tile look but don't want to commit to it long-term, consider tile-inspired wallpaper. You may want to incorporate this as an accent wall to create a stunning focal point without overwhelming the space.
You can add even more colours and intricate designs with eye-catching curtains, cushions and area rugs. These patterned elements add visual interest and depth whilst contributing to the warmth and comfort of your space.
When choosing patterned tiles and fabrics, look for designs that incorporate the aforementioned colour palettes popular in Mediterranean interiors. Floral, geometric and lattice motifs are good choices. Don't be afraid to combine eclectic patterns throughout your home, even overlapping one another in a shared space. This common technique is used to create a laid-back feel and emphasise Southern Europe's mixed cultures.
Install Window Treatments in Your Mediterranean-Style Home
When you bring the charm and allure of the Mediterranean coast into your home, you instantly transport to Southern Europe's sun-soaked shores, rolling hills and vibrant way of life. Draw on the Mediterranean home ideas outlined here, and you'll be well on your way to creating the warm, inviting and effortlessly stylish sanctuary you've been dreaming of.
If you're ready to add blinds, shutters or curtains to your Mediterranean-inspired home, look no further than Absolute Blinds. We pride ourselves on offering a wide range of high-quality window treatments to suit every style and budget. With our expert advice, friendly service and made-to-measure solutions, we're confident you'll find the perfect window coverings to complement your Mediterranean interior design.
Our selection includes wooden blinds for a natural and earthy look, plantation shutters for a classic and timeless appeal and tracked shutters for light control and privacy without obstructing access. We also offer curtains in an endless array of colours and patterns to help you bring those bold Mediterranean designs into your space.
For more help transforming your home into a Mediterranean oasis with the right window treatments, please call Absolute Blinds on 01707 394141 or visit our showroom in Hertford. Our knowledgeable staff will happily guide you through the selection process and provide expert advice on the best window coverings for your space.