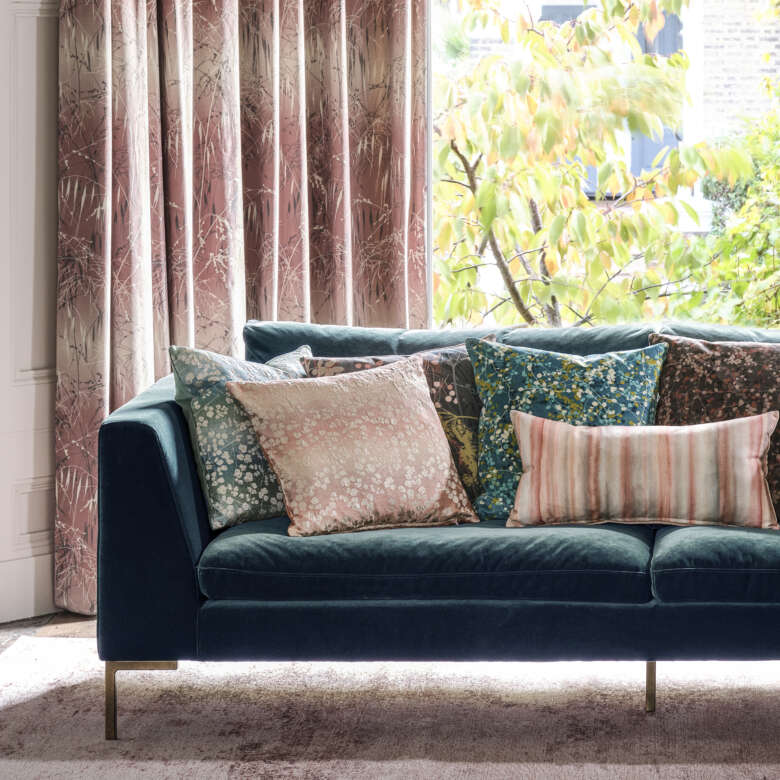 Absolute Journal
How to Decorate Your Home with Pops of Colour
Are the neutral rooms in your home starting to look a little blasé? Breathe new life into the space by decorating with pops of colour.
In this guide, we'll explore various colourful home ideas and show you how to add pops of colour to a neutral room without overwhelming it.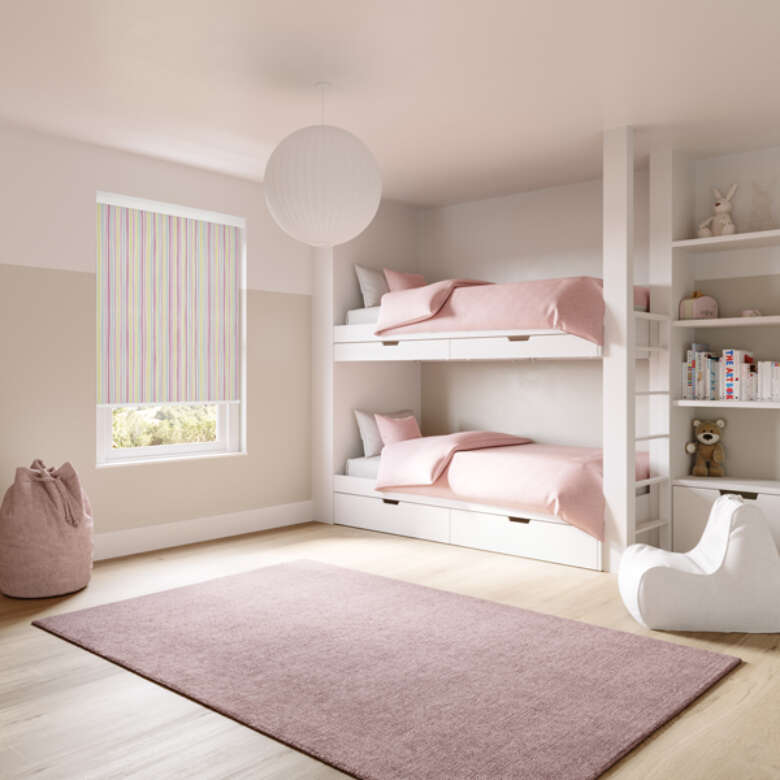 Start with Soft Hues
If you're nervous about introducing bright colours like cherry red or royal blue, start with softer shades like blush, peach or mint. These subtle hues add some much-needed colour without being too overpowering.
Once you build confidence, you may want to gradually experiment with bolder hues, but this is up to you. If you appreciate the touch of elegance and tranquillity that soft colours provide, you may choose not to go any brighter than this.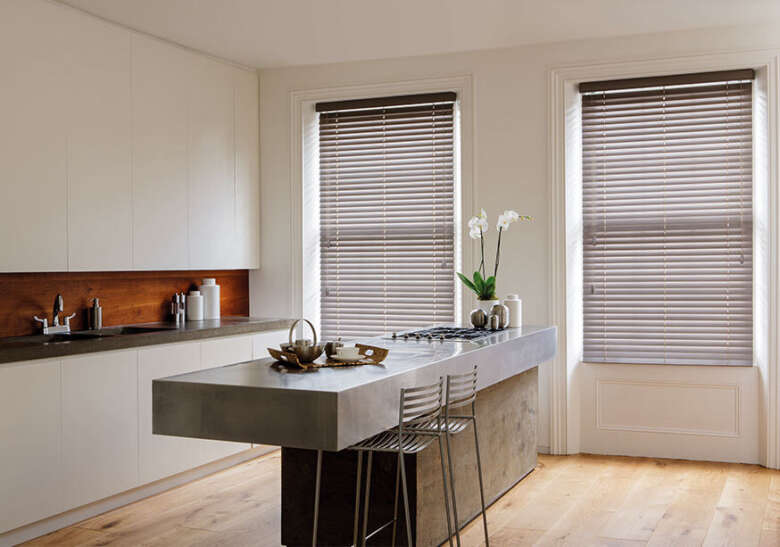 Choose One or Two Accent Colours
It's easy to get carried away, so coordinate your accent pieces by choosing just one or two colours, at least until you get the knack for these home design ideas. The goal is to create a cohesive look, but that doesn't mean the entire house has to be the same colour. Choose one or two accents per room that work nicely together. For example:
Green and grey create a calming atmosphere in the bedroom.
Blue and light green are perfect for the living room.
Yellow and red accents add warmth and energy to an otherwise white kitchen.
Orange and aquamarine can stimulate creativity in a playroom or child's bedroom.
Of course, these are just examples. You should choose accent colours that complement your existing décor and personal tastes and use them consistently throughout the room. This strategy creates a balanced, harmonious space that feels well-curated and visually appealing.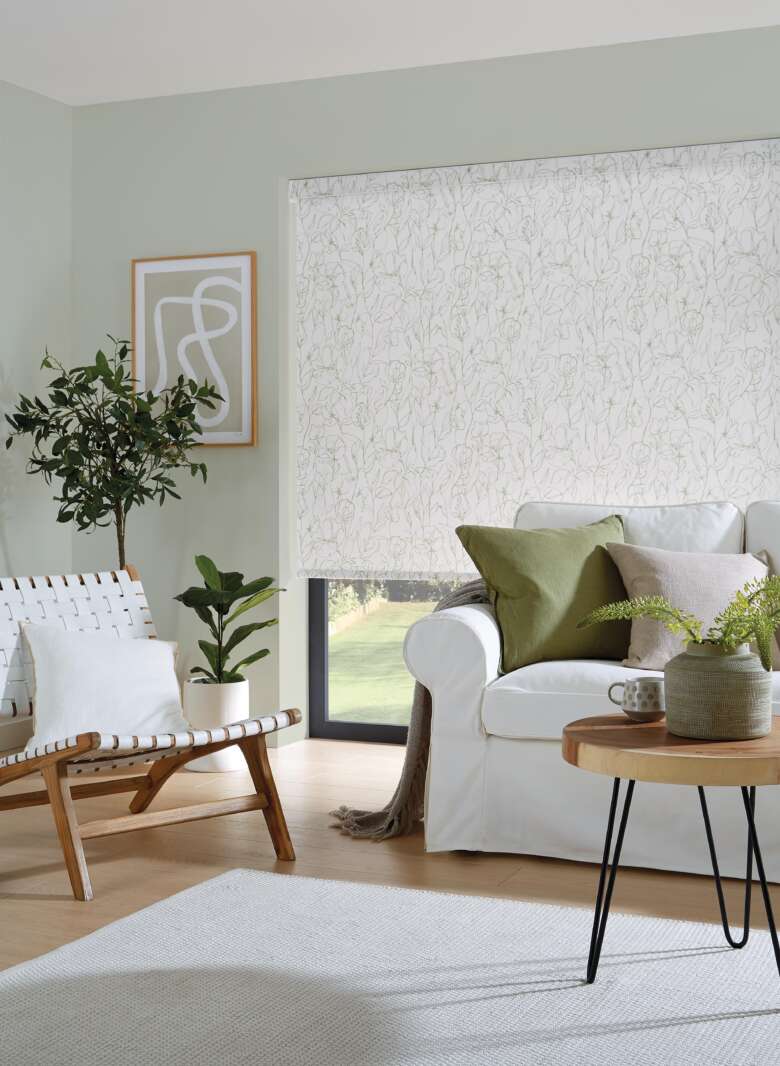 Hang Artwork
Artwork is an excellent way to introduce colour without making a long-term commitment. Consider using framed paintings, graphic art, family photos, metal artwork, decals or stickers to add visual interest to various spaces in your home. For instance:
A bold abstract painting could make a statement in your sitting room.
The kitchen might benefit from food-themed word art or graphics.
Your bedroom can be enhanced with calming landscapes or uplifting quotes.
A den or home office is a good place to display a gallery wall of book covers or author portraits.
Your staircase can become a focal point with a collection of family photos or eclectic prints.
Experiment with various types of artwork in different rooms to find the perfect pieces that reflect your personality and complement your décor.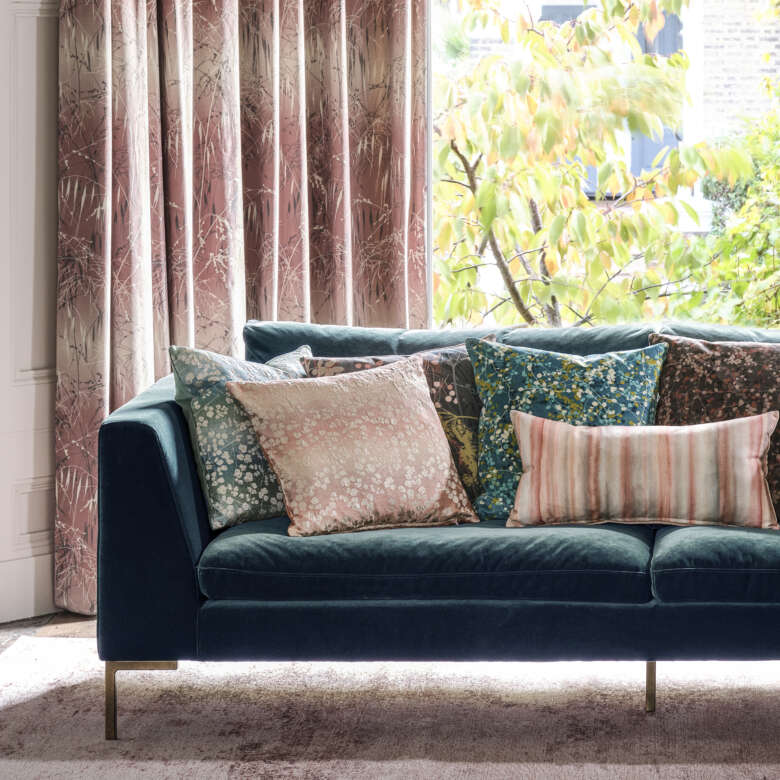 Feature Bold Window Treatments
If the windows are the eyes of a room, the window treatments are the eyelashes, framing and drawing attention to one of the most important features in the space. With the right window treatments, you can add pops of colour that significantly impact your home's visual appeal. Here are some ideas for incorporating beautiful window treatments:
Add Bright Accent Furniture
You'll be amazed how a single statement piece instantly elevates a neutral room. You might opt for a bright blue side table, eccentric armchair or vividly patterned ottoman. Don't be afraid to mix and match styles, materials and colours for a truly unique look. If you have perfectly functional wood furniture that you want to turn into accent pieces, paint them a bold hue for a fresh new appearance.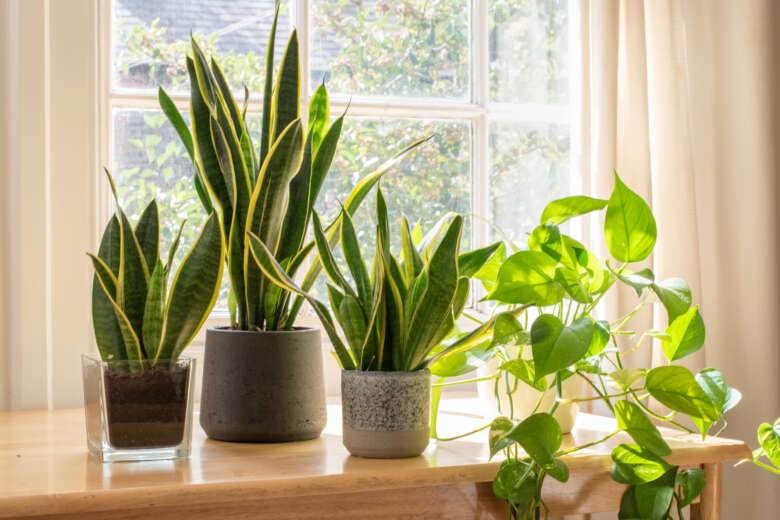 Bring in Some Greenery
Introducing soft, green foliage is a wonderful way to add colour and vitality. Plants not only serve a decorative purpose but also improve air quality and promote good mental health, making them a valuable addition to any room. Consider these ideas:
A large, leafy plant can liven up a sitting room.
Fresh-cut flowers in brightly patterned vases add colour and fragrance to the kitchen.
Faux greenery and silk flowers offer a low-maintenance, low-light solution for the bathroom.
Experiment with hanging baskets, wall-mounted planters or terrariums to add a touch of nature throughout the house.
Set Out Some Colourful Pillows & Throws
Add vibrancy to your sofa or bed with colourful pillows and throws. Mix and match patterns, textures and colours to create a dynamic and visually appealing space with a boost of comfort and relaxation. Look for designs that coordinate with your chosen accent colours, and don't be afraid to play with scale. Combining large and small patterns adds depth and interest to your décor.
Add a Vibrant Area Rug
An eye-catching area rug anchors the surrounding furniture grouping and provides an additional pop of colour. This floor covering can also define specific areas within an open-concept floor plan, making it feel more structured and logical. Choose a bold pattern or bright hue that complements other accent pieces you have incorporated into the room.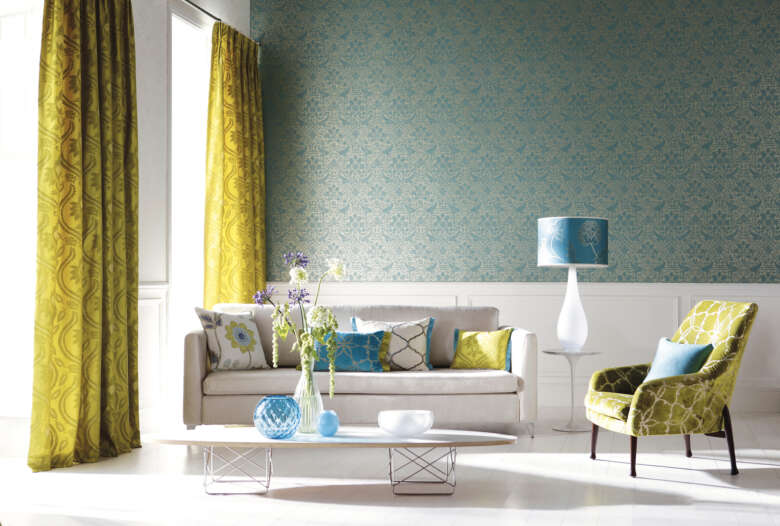 Create an Accent Wall
You might choose to paint, wallpaper or add wood panelling to create an accent wall in your sitting room, bedroom or other space. Bear these tips in mind:
When painting, select a hue that complements your existing colour scheme.
When wallpapering, you have endless patterns, textures and colours to choose from, allowing you to create a truly unique look.
Shiplap or board-and-batten accent walls are also popular, whether stained, left white or painted in an accent colour.
When selecting which wall to accent, consider factors like natural light, architectural features and the furniture layout to achieve the desired effect.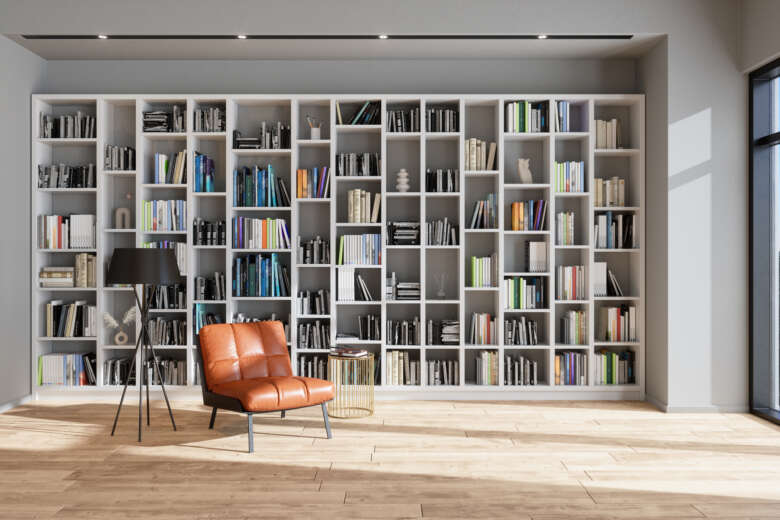 Update Your Lamps
Switching out dull table lamps for more vibrant accent pieces significantly impacts the room's atmosphere. If your light fixtures are in good condition, consider replacing plain white lampshades with colourfully patterned ones, an easy and affordable way to update the space. Coordinate with your chosen accent colours, and combine different shapes and sizes for added visual interest.
Decorate with Books
Arrange colourful books on shelves, coffee tables or in decorative stacks to add a pop of colour and a touch of personality. Similarly, consider painting the inside of a bookcase or cabinet in a bold hue to create a striking backdrop for your books and other items. This home design idea is a simple way to make a statement and draw attention to your curated collection.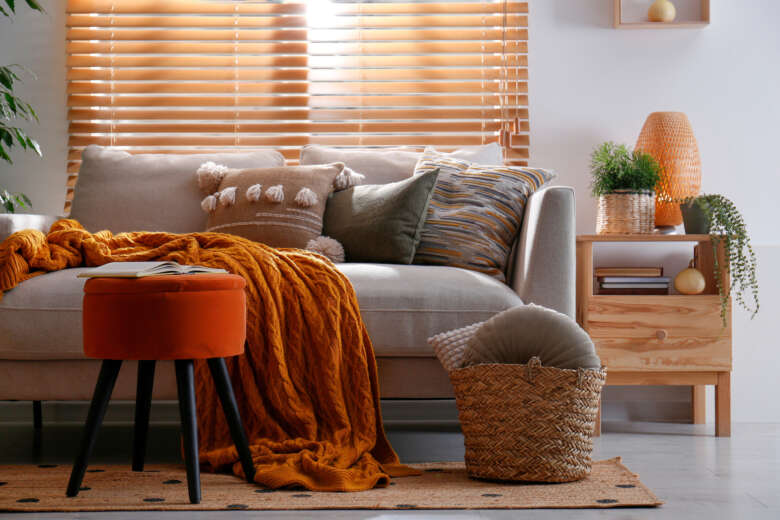 Accessorise Further
Colourful accessories provide an extra layer of visual interest. With the right additions, you'll create a lively and dynamic atmosphere that showcases your personality. Consider these ideas:
Add decorative trays, candle holders, vases and sculptures in your chosen accent colours.
Play around with materials, patterns and textures to find the right look.
Explore colourful tableware, linens and glasses to liven up your dining area.
Introduce colourful storage solutions, such as decorative baskets, bins or boxes.
Consider Bright, Vintage Appliances
With the right kitchen design, retro refrigerators, ovens and toasters are suitable choices. These often brightly coloured appliances serve as functional works of art, enhancing your kitchen's visual appeal and providing practical use.
Absolute Blinds Can Help You Decorate with Pops of Colour
Introducing accent colours into a neutral space transforms your living area, making it feel fresher, more vibrant and uniquely yours. Window coverings are one of many ways to achieve your desired look.
As a small, family-run business with 25 years of experience, Absolute Blinds offers a wide range of made-to-measure curtains, blinds and shutters that can add pops of colour to your home. Our knowledgeable team is happy to assist with selecting and fitting the perfect window treatments for every room. To get started, please contact us on 01707 244855 or visit our showroom in Welwyn Garden City. We look forward to helping you create a beautifully colourful home that reflects your personal style.