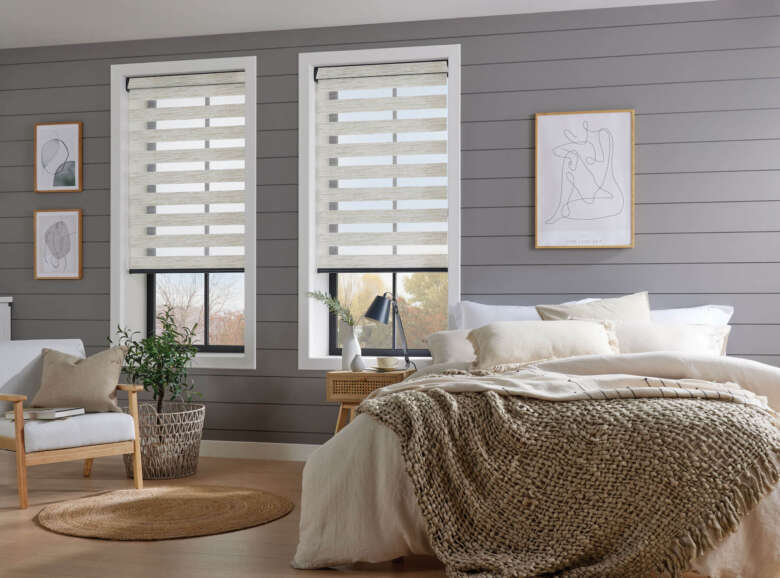 Absolute Journal
10 Bedroom Window Ideas You'll Love
Discover 10 inspiring bedroom window ideas for a dreamy sanctuary of style, comfort, and natural light that reflects your unique taste and personality.
Transforming the look and feel of your bedroom can be as simple as rethinking your window dressings.
Whether you're keen on a complete overhaul or just want a bit more style, these 10 bedroom window ideas will have you falling in love with your space like never before.
From boosting the cosiness factor to adding a pop of colour, here are the top ways to enhance your bedroom windows.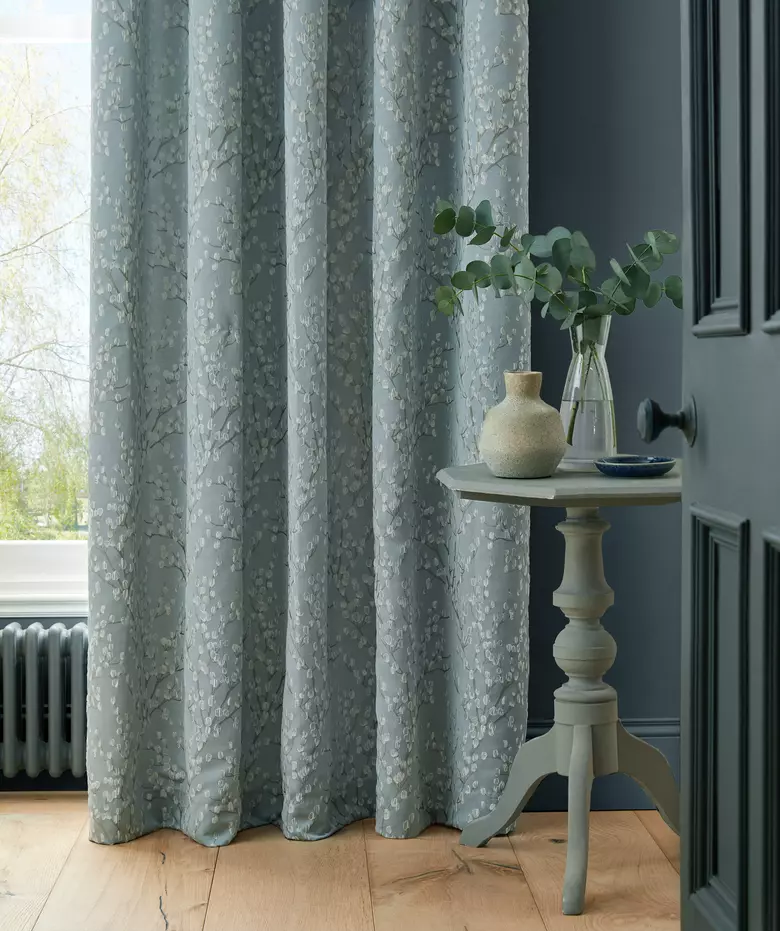 Add Heavy Curtains
When it comes to making your bedroom feel snug and cosy, nothing beats thick, heavy curtains.
These window dressings are crafted from plush fabrics like velvet, brocade or chenille. They're designed to help keep out the chill during the UK's nippy winter months whilst creating an air of homely comfort.
Darker shades are especially good at transporting you into a cosy mindset. On the other hand, lighter tones can imbue your room with an inviting, airy ambience, perfect for warmer summer days.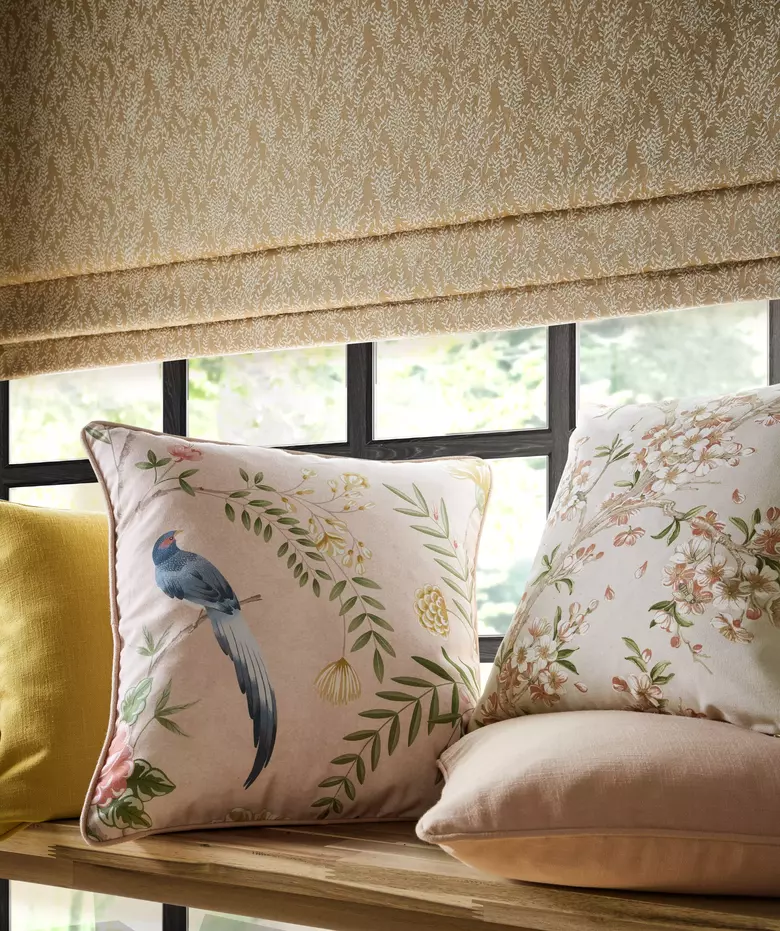 Add a Pattern with Roman Blinds
Roman blinds offer a fabulous blend of practicality and aesthetics, seamlessly providing light control whilst dressing up your windows.
They're the perfect canvas for introducing colours and patterns, lending a lively flair to your bedroom.
Whether you lean towards the charm of dainty floral designs or the bold symmetry of geometric shapes, you can find Roman blinds that suit your unique personality.
Hang Floor-to-Ceiling Curtains
One of the smartest ways to create the illusion of grandeur is by installing floor-to-ceiling curtains.
Irrespective of the actual window size, draping fabrics from the highest possible height instantly makes your room feel taller. This visual trick plays with perception, drawing the eyes upwards for the impression of a loftier ceiling.
Complete the look by ensuring the curtains brush against or even pool on the floor.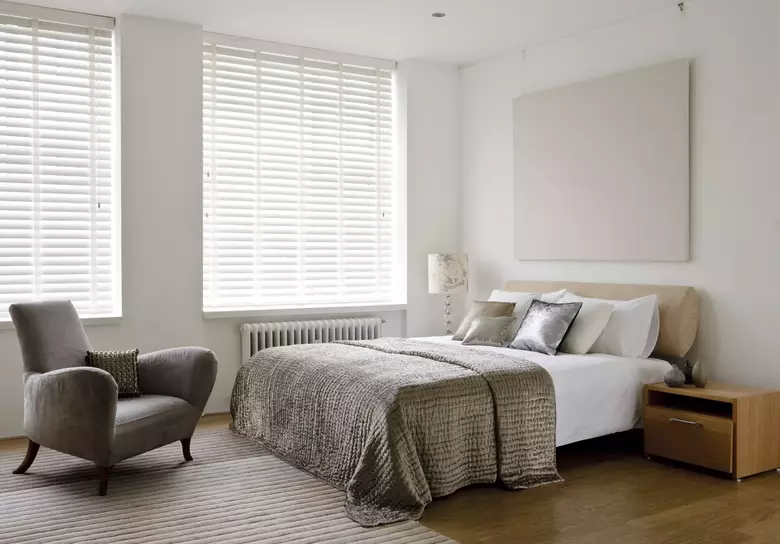 Add Wooden Accents with Venetian Blinds
Hanging wooden Venetian blinds in your bedroom windows offers rustic charm combined with stylish sophistication.
The horizontal slats of these blinds allow you to aim the light upward for a diffused glow across your room. Likewise, you can angle the slats down to bathe the space in warm, soothing light.
The timeless appeal of Venetian blinds harmonises seamlessly with any bedroom style, from modern or rustic to traditional or bohemian. For maximum durability and longevity, choose faux-wood blinds that exude the same elegance as real wood but without the maintenance.
Use Sheer Fabrics
Sheer fabrics like linen, voile or lace bring a delicate, ethereal touch to your bedroom. These fabrics drape elegantly over your bedroom windows, allowing a soft diffusion of natural light whilst maintaining privacy.
One common technique is to pair sheer curtains with a set of heavier drapes on a separate curtain rod. This creates more adjustable light control, allowing you to shift between a softly lit, romantic setting and a completely dark, restful atmosphere.
Match Your Window Coverings to Your Bedding
A brilliantly simple approach to creating a unified, put-together look is to match your Roman blinds to your duvet cover or cushions. By reflecting the same colours, patterns or textures, your room feels more harmonious and carefully coordinated.
Matching solids or choosing complementary colours provides a classic, refined look. On the other hand, mixing patterns creates an eclectic, vibrant space that's full of life.
Either way, the aim is to design a cohesive space that resonates with your personality.
Try Shutters on for Size
With shutters, your windows become the star of the room. White plantation shutters lend a traditional, classic look, but you can find a style and colour for every bedroom. You might choose dark solid shutters capable of providing a blackout effect or tier-on-tier shutters for their adjustable light control.
If your room features unique window shapes, then shaped shutters are a must to cater to these architectural features.
Coordinate the Windows with Your Wallpaper
Why not let your wallpaper join the party? Coordinating your window treatments with your wallpaper establishes harmony and balance throughout the room.
One common technique is to choose a prominent colour or pattern from your wallpaper and integrate it into your window dressings, creating an aesthetically pleasing connection between your walls and windows.
Zone the Space
Large bedrooms or studio flats often benefit from clever zoning. Window treatments can be utilised as visual cues, clearly demarcating different areas like the sleeping zone or a workspace. You can even hang curtains in front of a window seat to create a quaint and cosy reading nook.
Panel blinds are another option, serving as physical room dividers when installed along a ceiling-mounted track.
No matter how you do it, zoning creates a more organised, functional environment, enhancing your bedroom's usability whilst maintaining its stylish appeal.
Add Elegance with a Pelmet
Adding a pelmet infuses a sense of grandeur into your bedroom. This decorative feature fitted to the top of the window conceals curtain racks, poles and other installation elements, offering a neat, finished appearance.
Whether you opt for a straightforward, sleek design or a lavish, ornamented style, a pelmet can echo your room's overall aesthetic and make the window treatment feel more luxurious and well-established.
Bespoke Window Treatments for Your Bedroom
As a small, family-run business with 25 years of experience, we help people with bespoke, made-to-measure window treatments.
Whether you seek the timeless charm of wooden Venetian blinds, the effortless elegance of a pelmet or the cosy appeal of heavy curtains, we can help you achieve your dream look.
Call us on 01707 394141 or visit our showroom today for expert advice and inspiration.