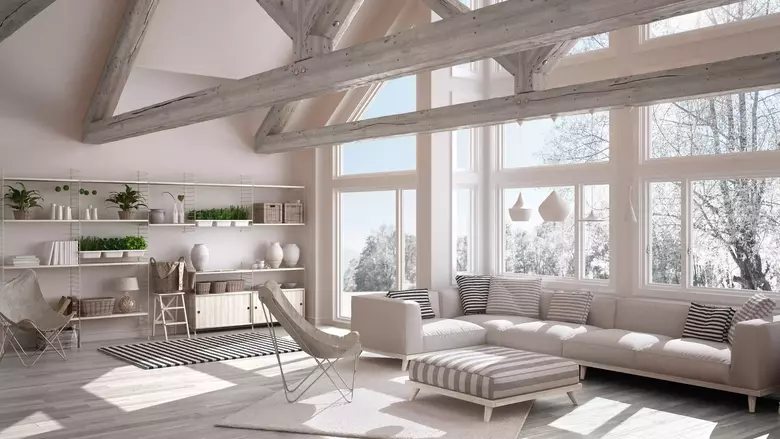 Absolute Journal
18 Home Décor Trends This Autumn
Get inspired by the biggest interior trends of 2023 and learn how to incorporate them into your space.
Are you tired of your drab, old interior? The cosy, laidback feel of autumn makes this the perfect time to refresh your home.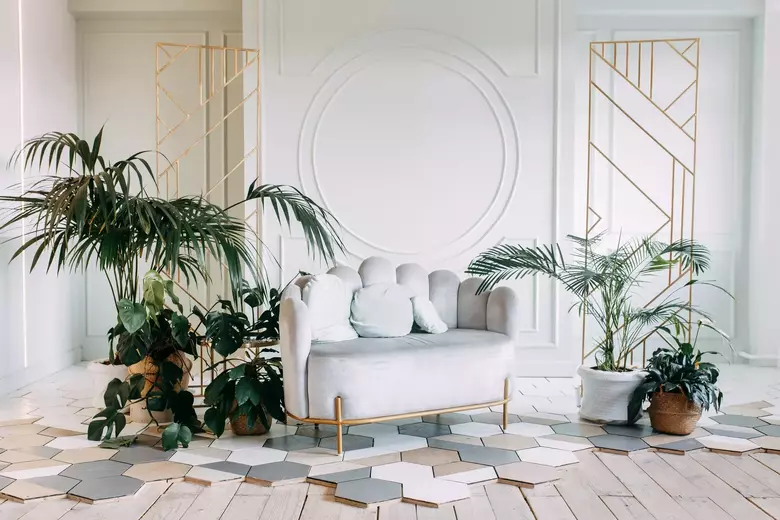 1. Dazzling Deco Revival
Art Deco, a design movement from the 1920s and 1930s, is making a glamorous comeback this autumn. Known for its luxurious materials, bold geometric shapes and ornate detailing, Art Deco brings sophistication to any space. Incorporate this trend by adding statement pieces like velvet armchairs, geometric-patterned rugs or striking brass accents. Choose furniture with clean lines and metallic finishes, and don't shy away from vibrant colours to create a truly opulent ambience.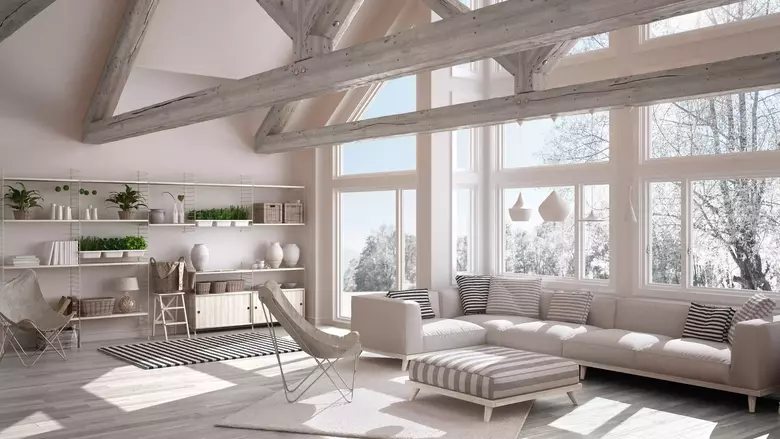 2. Eco-Chic
Environmental concerns remain a relevant talking point these days. As such, sustainable design choices are rising to the forefront of interior design trends. You have endless opportunities to embrace the eco-chic style, from sustainably sourced materials to reclaimed wood to upcycled furniture. Consider incorporating natural textiles like organic cotton, linen or hemp, and opt for low-VOC paint for healthier indoor air. You can also repurpose antique pieces you find at flea markets, giving them new life whilst adding vintage charm to your décor.

3. Brilliantly Bold Hues
Saturated paint colours are making a splash in autumn 2023. Rich, deep hues like navy, emerald and burgundy lend a sense of depth and drama to any room. Don't be afraid to go bold with your walls or even your ceilings. For a more subtle approach, use bold colours as accents in your furnishings, artwork or accessories. Saturated colours work particularly well with warm wood tones and metallic accents.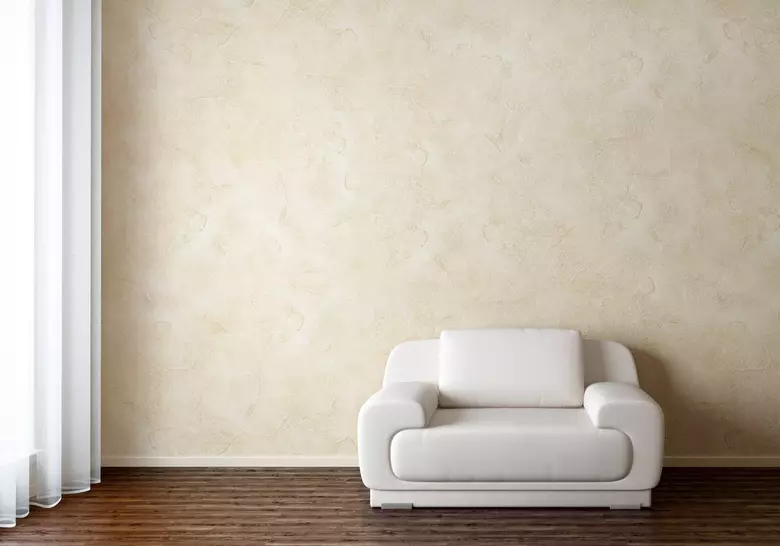 4. Venetian Plaster
Venetian plaster is a luxurious wall treatment gaining popularity for its unique texture and depth. This ancient technique involves applying layers of tinted plaster to create a rich, polished finish. Choose bright or subdued colours in matte or high-gloss finishes to suit your style. The artisanal nature of Venetian plaster means each application is one-of-a-kind, bringing a bespoke touch to your home.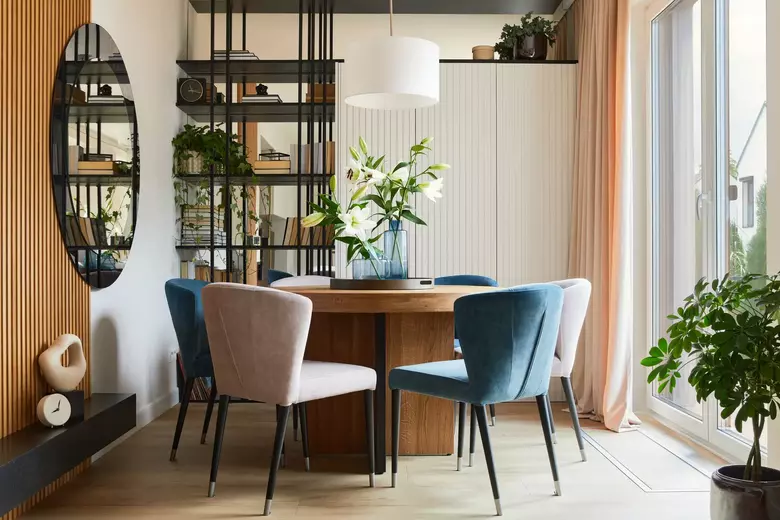 5. Micro Luxury
It's the little things that make a big impact. No other home decorating trend of 2023 exudes this more than 'micro luxury,' which is all about small, well-crafted pieces boasting exquisite materials, textures and finishes. Think velvet cushions, hand-blown glass vases and artisanal ceramic bowls. Incorporating these rare finds throughout your home creates an indulgent yet inviting atmosphere.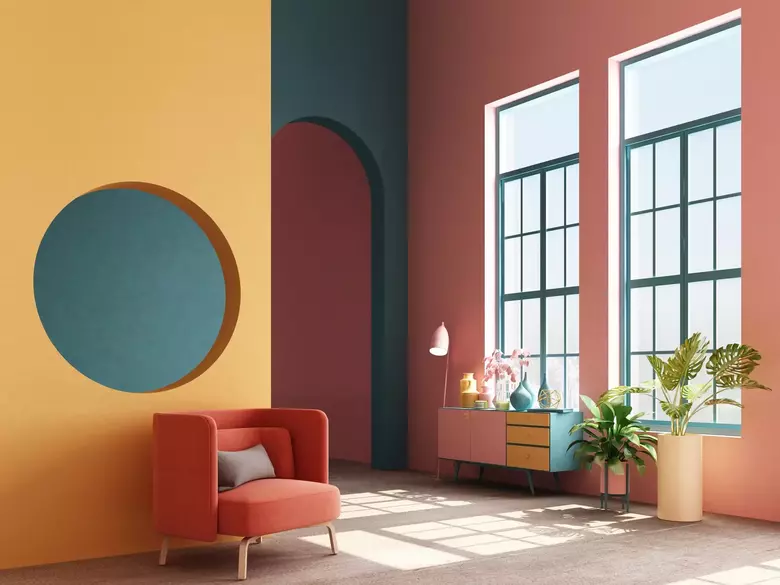 6. Pops of Colour
While neutral colour palettes remain popular, adding pops of colour is a fun way to revitalise your interior. Experiment with vibrant colours and patterns through statement furniture, artwork or accessories to create a playful, eclectic vibe. If you don't want to change everything in the room, even a single, bold accent piece may be enough to transform the look and feel of the space.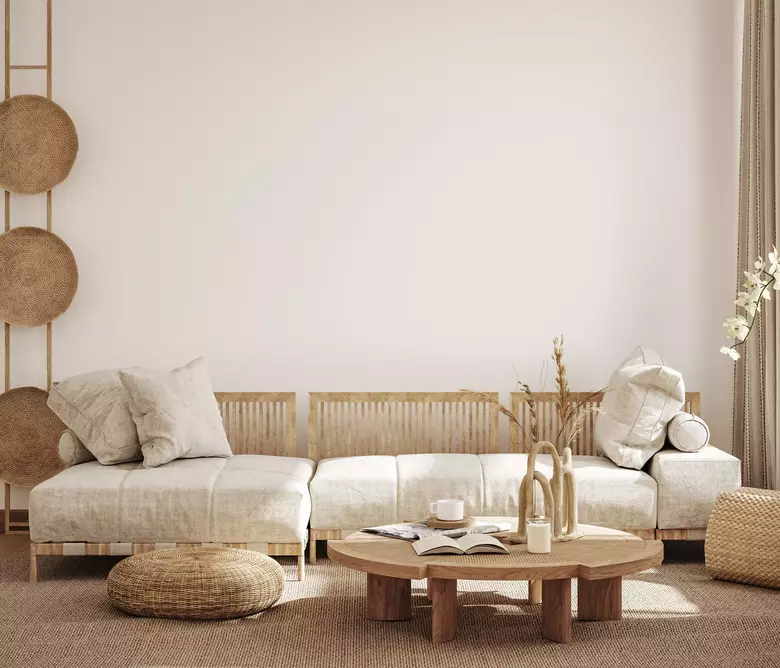 7. Japanese Serenity
Japanese-inspired design is renowned for its calming, minimalist aesthetic. This trend focuses on creating serene spaces with natural materials, clean lines and an emphasis on balance and harmony. Incorporate elements like bamboo, tatami mats and shoji screens into your décor for a touch of Zen. You might also adopt the principles of 'wabi-sabi,' which involves embracing the imperfection and beauty of natural materials to create a tranquil, soothing atmosphere.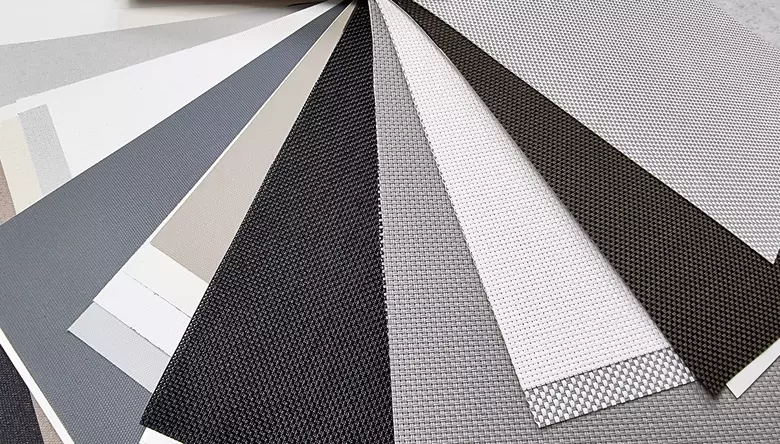 8. Windows that Wow
Window treatments are an essential aspect of home décor, and this year, it's all about unique, eye-catching designs. With endless colours, patterns and materials available, made-to-measure blinds are the perfect addition to any room. For instance, scalloped-edge Roman blinds offer a stylish, contemporary option for dressing up your windows. Also, consider other options like floor-to-ceiling brocade curtains, floral-patterned vertical panels or even motorised window coverings to make a statement whilst optimising privacy and light control.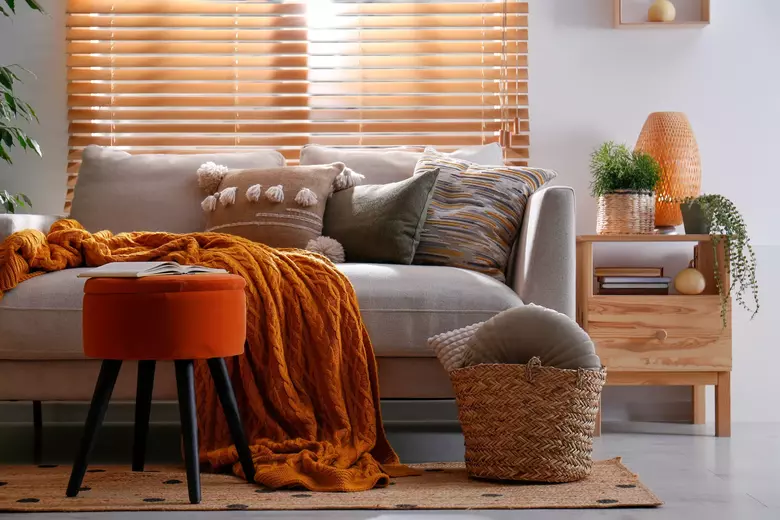 9. Warm Earth Tones
Warm wood and earth-toned colour palettes are making a comeback in 2023. From rich walnut to golden oak, these inviting hues are perfect for flooring, furniture and cabinets. Pair warm woods with soft earth tones like sage, terracotta and chocolate for a balanced look, or incorporate the saturated hues highlighted earlier for more depth and visual interest. Feel free to mix and match different wood species and finishes throughout the space.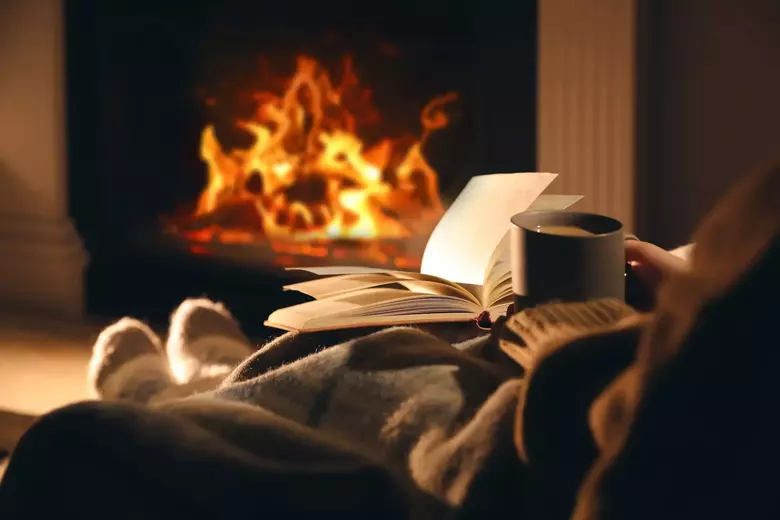 10. Comfortably Cosy
Embrace the Scandinavian concept of 'hygge' by creating cosy, inviting spaces in your home. Think faux fur, plush cushions and dancing firelight. For a sense of depth and comfort, layer different textures and materials together, such as a sheepskin throw over a linen sofa or a knitted blanket on a leather armchair. The goal is to cultivate a warm, nurturing home environment where you can relax and unwind after a hectic day.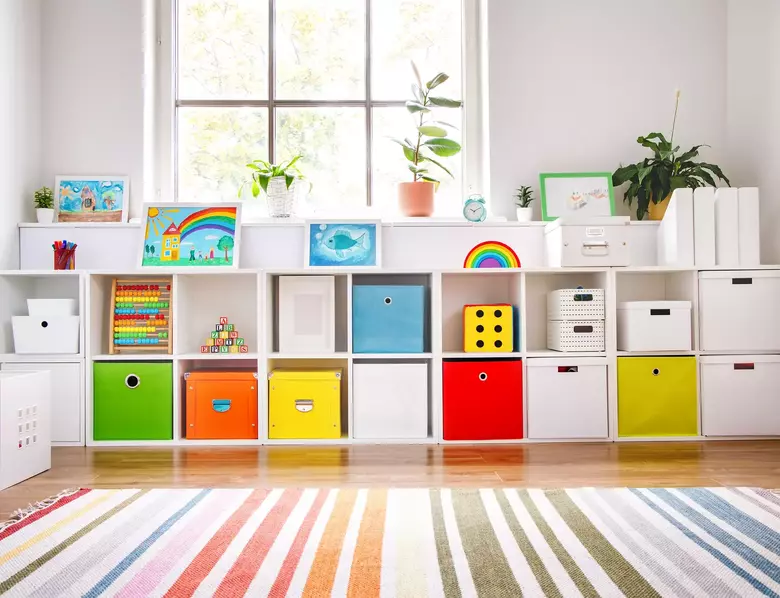 11. Daring Furniture Design
Make a statement with bold furniture pieces that reflect your unique style. You might opt for colourful upholstery or sculptural forms that double as functional art. Mixing and matching different styles, textures and materials results in a dynamic, eclectic space bursting with personality. Dare to step outside your comfort zone and invest in pieces that truly speak to you.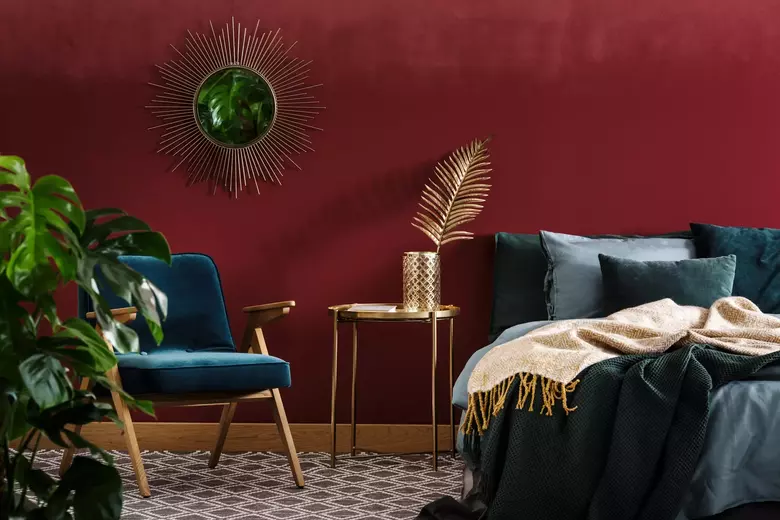 12. Gilded Glamour
While silver finishes have stolen the spotlight for many years, gold fixtures and accents are back! This autumn, embrace glamourous brass faucets, drawer pulls and light fixtures. Gold finishes pair well with warm or cool tones, creating a rich, opulent look. You can also contrast gold accents with a crisp, white backdrop for a chic, modern aesthetic.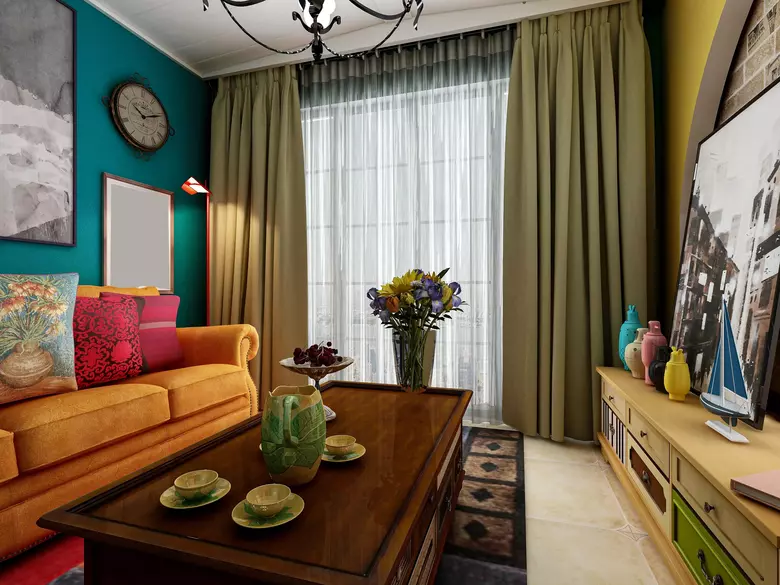 13. Maximalist Magic
Modern maximalism is a lively yet structured home décor trend that embraces bold patterns, colours and textures. This style is all about layering, so mix and match different designs and materials to create a visually rich space. Feel free to combine antique and contemporary pieces to create vignettes of collectables and meaningful objects. The key to mastering modern maximalism is to curate a cohesive yet eclectic look that showcases your personal taste.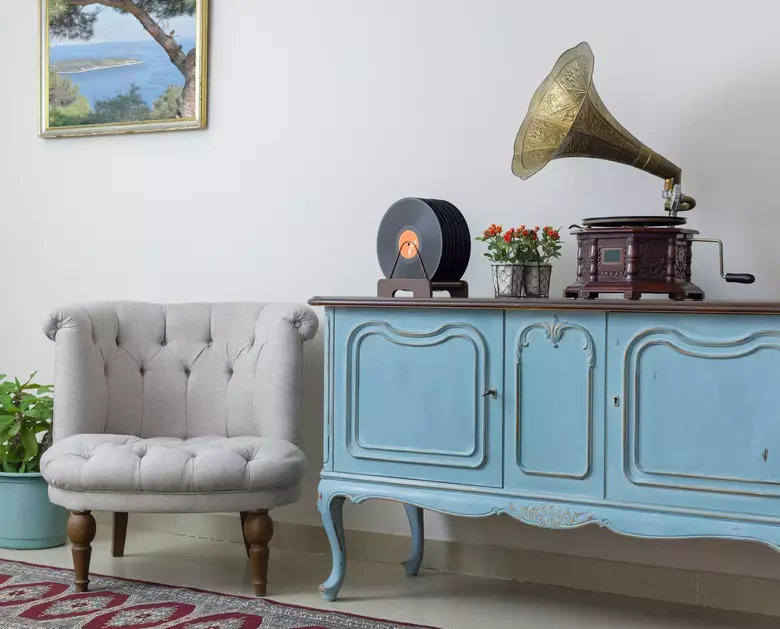 14. Perfectly Imperfect
Celebrating the beauty of blemishes, this interior design trend of 2023 is a refreshing departure from the pristine show homes of past years. This design philosophy values the unique charm of vintage and handmade items with inherent flaws. To incorporate this trend, seek out antique furniture with a visible patina or locally made pottery with slight irregularities. Embracing quirky, imperfect pieces adds character to your home.
15. Unleashed Upholstery
Express your individuality with bold, patterned upholstery that adds a lively touch to your interior design. From vibrant florals to eye-catching geometrics, these fabrics bring new energy to your sofa, armchair or upholstered headboard. Choose patterns and hues that complement the room's colour palette and style, or go for a striking contrast that commands attention. By incorporating this trend, you'll create a unique, conversation-starting focal point that showcases your personal flair.
16. High-Gloss Wood
This interior design trend steers away from ever-popular matte wood finishes and embraces a modern, high-gloss finish. Polished wood furniture, cabinetry and flooring reflect light beautifully, enhancing the room's brightness and making it feel larger. Incorporating high-gloss wood into your design creates a timeless atmosphere that's sure to impress.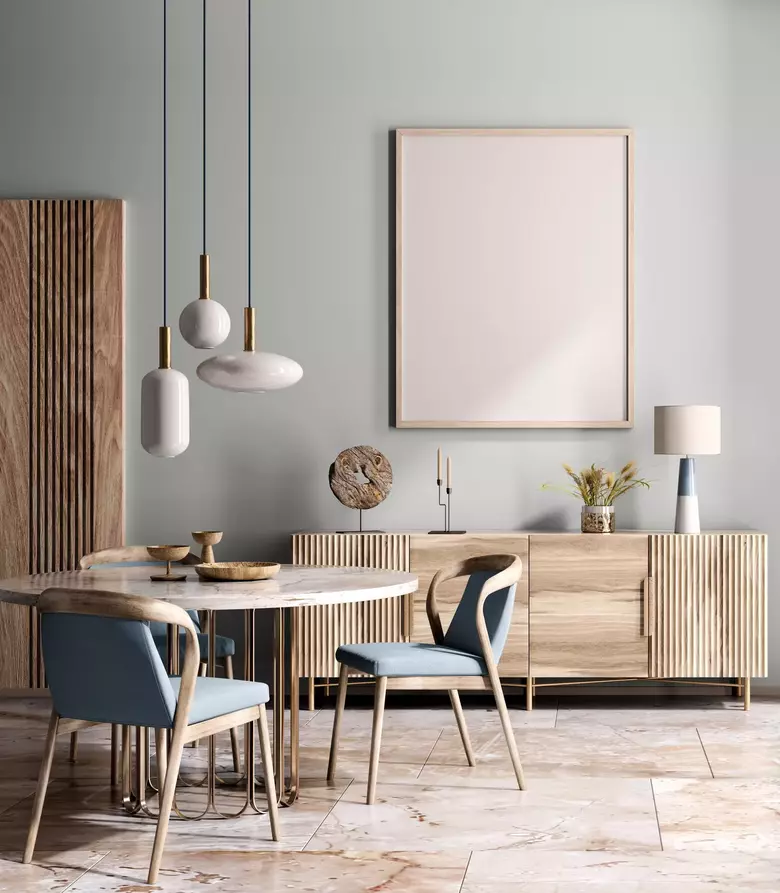 17. Flooring with Flair
Elevate your floors with statement rugs that add character, warmth and artistry. These eye-catching pieces anchor your furniture and define different areas within an open-concept floor plan. Choose from geometric designs, abstract art-inspired prints or vintage motifs. Carefully consider the size, placement and material that best suits your space and complements your existing décor.
Help Transform Your Home this Autumn with New Window Coverings
Are you ready to incorporate the biggest interior trends of 2023 into your living space? Absolute Blinds is here to help. Our made-to-measure window treatments maximise privacy and light control using any style, material or colour you can imagine. As a small, family-run business with 25 years of experience, we can offer expert advice on selecting bespoke blinds, shutters and curtains for every room. Contact us on 01707 394141 or visit our showroom in Welwyn Garden City to learn more. We look forward to being a part of your home's transformation this autumn!